Don't let lockdown get you down… Round up your friends and #AVOPARTYANYWAY!
Set your dining table, and get ready to host your own digital dinner party. NZ Avocado and Kitchen Takeover, the dinner party pop-up pros, have teamed up to help you bring your friends and family together, even while lockdown is keeping you apart. 
We may be social-distancing, but that doesn't mean we can't stay social. Invite your loved ones, set up a video chat, follow our healthy and delicious avo-inspired recipes – and let's get this virtual party started anytime, anywhere. 
Share your experiences on social @nzavocado @kitchentakeovernz with the hashtag #avopartyanyway, and you'll be in to win one of five $100 supermarket vouchers.
Dining in is the new dining out: How to host a virtual dinner party
We may be living life in lockdown, but that doesn't mean you can't share a delicious meal with your favourite people. Stacey Jones, foodie and Founder of Kitchen Takeover, lets us in on her top tips for hosting a virtual dinner party that runs as smoothly as an aged Bordeaux.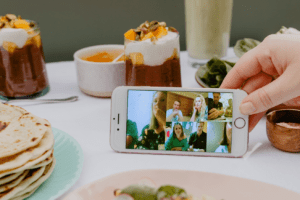 2 Avos, 3 delicious courses
Kitchen Takeover's award winning Head Chef Shane Yardley has created three delicious avocado-inspired courses for two people – a cocktail, a main course, and a ready-to-go dessert – using just two versatile, healthy and nutritious avocados.
Feel free to put your own spin on our ideas. You can substitute ingredients for whatever you have at home, or even design your own menu from scratch. It's all about having fun – so crank up the WiFi, get a little creative, and make it your digital dining masterpiece!
Share your experiences to WIN
If you find yourself hosting a virtual party, we'd love to see the snaps of the party preparation, outfits, food, cocktails and more. Don't forget to tag #avopartyanyway @nzavocado and @kitchentakeovernz. The best snaps will be featured on our social channels and will be in to win one of five $100 supermarket vouchers.