Avocado, prawn and orange salad in cos leaves
An ideal appetiser for a crowd - This recipe is for 20 but you can adapt it for 2 or 200.  If you don't have cos leaves, serve it in small bowls or martini glasses over shredded lettuce.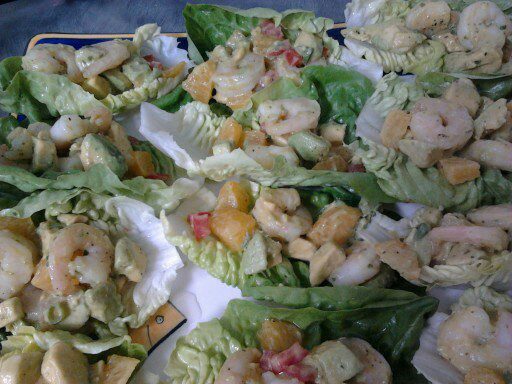 Ingredients
(for 20 leaves)
20 baby cos lettuce leaves – the size that fits inside the palm of your hand
4 – 6 Avocados – firm but not crunchy
60 thawed raw peeled prawns (allow 3 per person)
6 Kaffir lime leaves (optional but gives a great flavour)
Lemon juice of 1 – 2 lemons
Avocado and lime oil (for cooking and marinating)
3 large oranges
1 firm ripe tomato
1 Red onion or spring onion
Salt and lemon pepper
Method
Rinse cos leaves and dry.
Remove central spine and very finely chop kaffir lime leaves.
Toss prawns with small amount of avocado and lime oil & kaffir lime leaves and leave to absorb flavour.
Peel orange taking care to remove all white pith.
Slice orange segments out of the membrane and chop into approx 2 cm chunks.
Cook prawns in frying pan in a little extra avocado oil until tender – takes only about 3 to 4 minutes in a hot pan.  Allow to cool in fridge.
Peel and chop avocado into 2 – 3 cm chunks and mix gently with enough lemon juice to keep from discolouring.
Deseed and finely chop tomato and onion to same size.
In a bowl gently mix prawns and all veg except cos together turning to coat in oil and lemon juice.
Season with salt and lemon pepper to taste, adding more oil and lemon if required to provide a sauce.
Spoon into cos cups and serve as soon as possible.
Note: If you don't enjoy prawns, try this recipe with any other type of seafood or smoked chicken.