Xmas Prawn Cocktail
Our fresh Xmas take on the classic prawn cocktail. Little gem lettuce cups filled with a delicious, mayo, avocado, herby prawn cocktail. Super simple but sure to impress the whole family!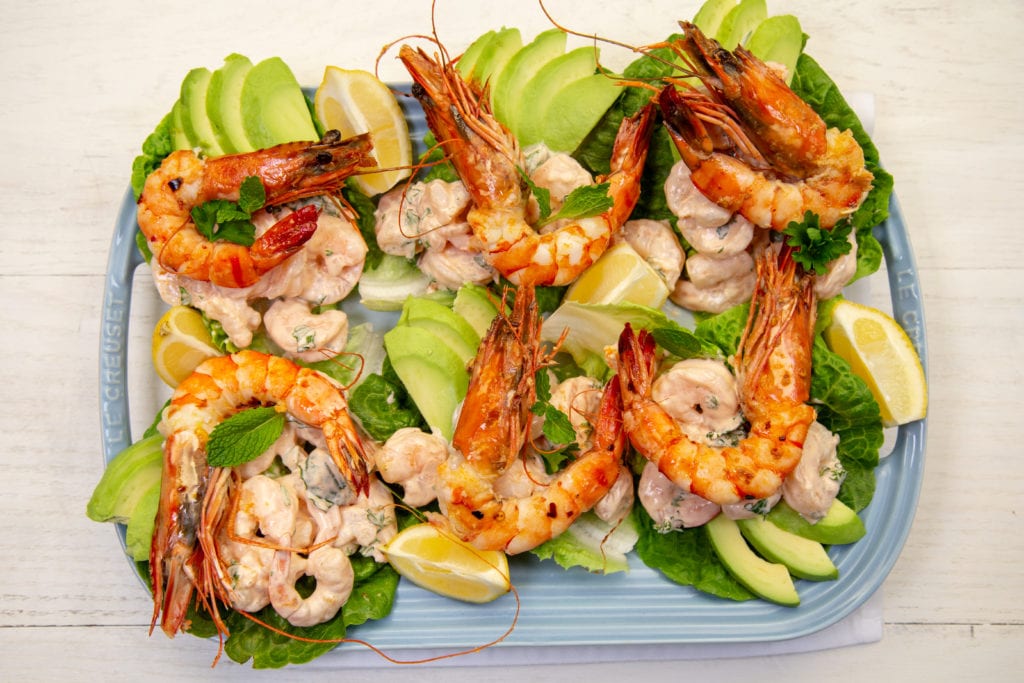 Ingredients
1 twin pack cos sweet petite (we love The Fresh Grower )
2 cups raw prawns (we love Sea Cuisine)
Some large tiger prawns for garnish (we love Sea Cuisine)
Avocado Oil (we love Olivado)
1 tsp Chilli Flakes
1 large ripe avocado, halved, stone removed, diced(we love New Zealand Avocado)
1 lemon cut into wedges
A handful of mint, chopped (we love Superb Herb)
A handful of parsley, chopped ( we love Superb Herb)
For the cocktail sauce
⅓ cup mayonnaise
⅓ cup Sour Cream( we love Anchor )
2 tbsp tomato sauce( we love Chantal Organics)
1/2 tsp smoked paprika
Well chilled Ara Wine Pinot Gris goes very well with this delicate prawn cocktail.
Method
Separate the leaves of the little gem lettuce, wipe clean. Arrange on serving platter.
Cook small prawns in boiling water for 2-3 minutes until completely pink and cooked through. Set aside to cool.
Mix all the cocktail sauce ingredients together, season.
Combine the cooked prawns, cocktail sauce and herbs in a bowl. Stir gently to combine.
Over high heat in a frying pan drizzle some avocado oil and fry off the large tiger prawns with a pinch of chilli flakes until pink and caramelised – around 3-5 minutes.
Top each lettuce cup with a spoonful of prawn cocktail mixture, sliced avocado, a chilli tiger prawn and a sprinkle of extra herbs. Serve with lemon wedges and devour!