Avocado and prosciutto pizza
Avocado and prosciutto go so well together on pizza, and this recipe is a real crowd pleaser! If you don't have prosciutto, use chopped up pieces of crispy bacon.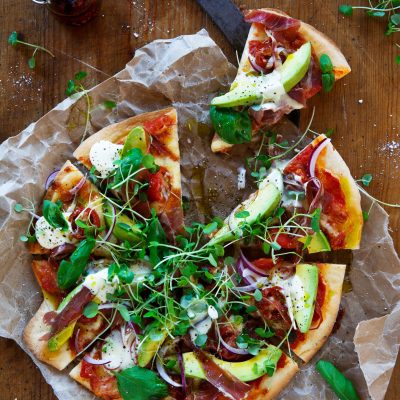 Ingredients
PIZZA BASES (makes 4)
1 cup (250ml) warm water
1 tablespoon active dried yeast
1 teaspoon sugar
450g high grade flour
1 tablespoon olive oil
1 teaspoon salt
TOPPINGS
1 x 400g can crushed or pureed tomatoes
1 punnet cherry tomatoes, cut in half
2 cups grated mozzarella cheese
2 avocados, sliced
200g prosciutto slices
1 red onion, very thinly sliced
2 handfuls baby watercress or rocket
1 handful basil leaves
1/3 cup creame fraiche or sour cream
2 tablespoons capers, finely chopped
2-3 teaspoons lemon juice
Method
To make the pizza dough, put the warm water in a mixing bowl and add the yeast and sugar. Stir gently. Leave in a warm place until the yeast has dissolved and the mixture is frothy. Mix well. 2. Place the flour, olive oil and salt in a large mixing bowl. Add the yeast mixture and mix well to form a dough (note: there may be some left over flour in the bowl once you've formed the dough, this is fine). Knead the dough for 10 minutes until smooth and elastic, then place in an oiled bowl. Cover with a tea towel or clingfilm and place in a warm place to rise until doubled in bulk (about 40 minutes).
Once it has risen, knock back the dough and divide into 4 even pieces. This recipe uses 2 pizza bases so you can refrigerator freeze the other 2 pieces of dough (wrapped well in clingfilm) to use at a later date. Alternatively you can cook all four pizzas, and just double the amount of toppings listed above! Preheat oven to 230degC. If you have them, place two pizza stones on separate shelves in the oven to preheat. Alternatively preheat 2 oven trays. Get them really hot (this helps the bases crisp up on the bottom).
Lay each pizza base on a sheet of baking paper and roll them out to get a nice thin base. Spread tomato sauce over each base, leaving an edge for the crust. Sprinkle over mozzarella and arrange cherry tomatoes (cut-side-up) on top. Carefully lift up the baking paper with the pizza on top and place on hot preheated stone or tray. Cook the pizza until the base is crisp and the cheese is melted and golden, about 12 minutes.
Take pizzas out of the oven and arrange slices of avocado and prosciutto on top, followed by red onion, watercress or rocket, and basil. Mix creame fraiche, capers and lemon juice and drizzle over the top. Grind over plenty of freshly cracked black pepper. Slice and serve!