Avocado sandwich
The combination of avocado and smoked salmon is unbeatable. Adding a slice of red onion and cream cheese sauce gives an extra lift to the sandwich too!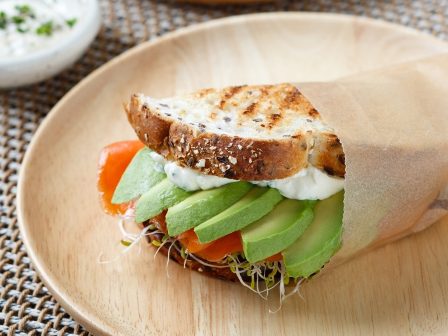 Ingredients
2 slices of bread
100g cold smoked salmon slices
small handful of lettuce and alfalfas
1 avocado, sliced
1/8 red onion, sliced
Butter or Margarine
pepper & salt
CREAM CHEESE SAUCE
2 Tbsp cream cheese
1 Tbsp Japanese Mayonnaise
1/2 Tbsp of lime juice (or squeeze 1/2 lime)
Couple of chives, chopped
Method
Mix cream cheese, Japanese mayonnaise, lime juice and chives in a small ramekin and set aside
Make a slice of toast and smooth butter / margarine on one side
On the side that you put the butter, place lettuce, alfalfa, smoked salmon, sliced avocado, red onion and spread cream cheese sauce. Season with black pepper and salt and put another slice of toast on top. Enjoy!