Chicken Bacon and Avocado Tortilla Melt
These chicken bacon and avocado tortilla melts are simple to make and absolutely moreish. They're a great picnic, lunchbox or lazy dinner option. You can add your favourite vegetables, condiments and sauces.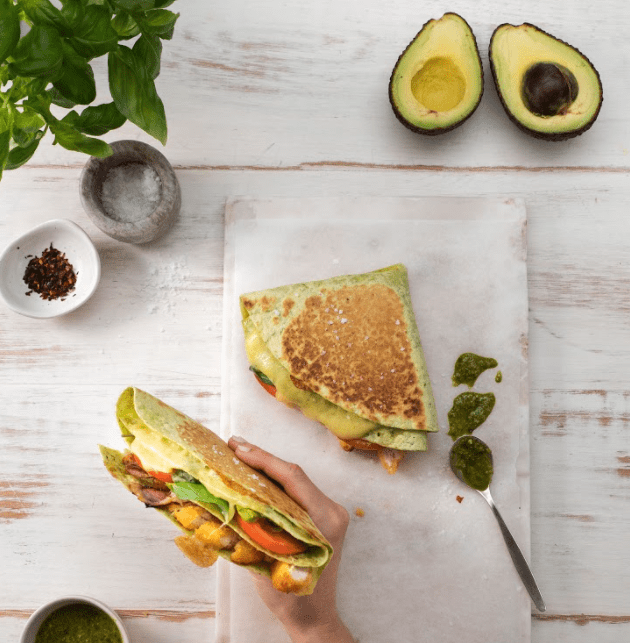 Ingredients
1 box Waitoa Free Range Chicken Tenders
250g Hellers Danish Free Range Streaky Bacon
2 NZ Avocados, sliced
Handful of Superb Herb Basil leaves
Olivado Avocado Cooking oil
4 large Tortillas/ spinach wraps
2 large Tomatoes, sliced
4 tbsp Pesto
1 cup Mozzarella cheese, grated
Salt, pepper & chilli flakes (optional)
Method
Preheat the oven to 200°C. Line a baking tray with baking paper then lay chicken tenders on. Bake for 20-25 minutes, flipping halfway, until golden and cooked. Let cool slightly then chop chicken into strips.
In a pan, chop the bacon strips in half, fry until crispy and golden and set aside.
Lay the tortillas down. Make 1 cut on each from the outside to the middle.Spread 1 tbsp pest on the first quarter, topped with basil leaves and avocado slices.  Lay sliced tomatoes on the second quarter,  grated cheese on the 3rd quarter, and the sliced chicken tenders and bacon on the 4th quarter.  Sprinkle seasoning and chilli on the avocado. Fold the tortillas up to make little pockets.
Heat your sandwich press and drizzle with oil. Toast the tortilla pockets until the cheese has melted and the pockets are golden, about 5 minutes. Eat straight away or pack up for lunches. Yum!