BBQ Bunless Veggie Burger
This veggie burger is sure to impress item at your next barbeque, even the non- vegetarians! Using 2 tasty gourmet burgers as the bun, a lovely combination of mushroom, avocado and red slaw fillings, indulge in the veggie barbeque goodness!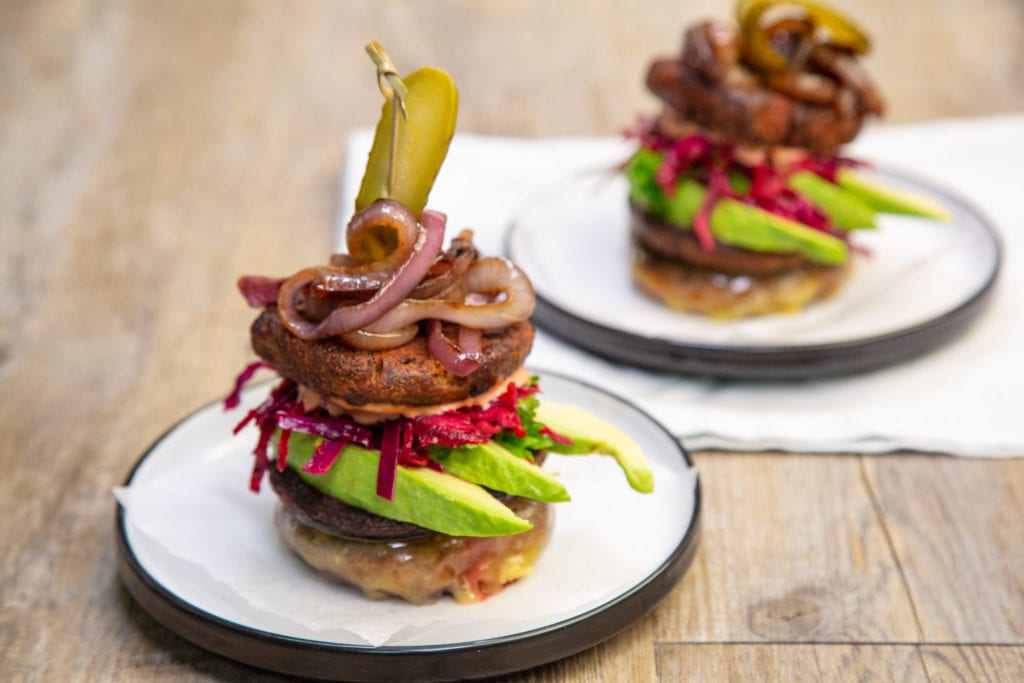 Ingredients
For the bunless burger:
8 gourmet burgers (we love Bean Surpreme)
Avocado cooking oil (we love Olivado)
1 Avocado (we love NZ Avocado) sliced
4 large portobello mushrooms (we love Meadows)
1 small onion sliced into rings
4 slices cheddar cheese (we love Mainland)
Tomato sauce (we love Chantal Organics) mayonnaise
For the Beetroot& Apple Slaw
2 medium beetroots, peeled and grated
2 apples, grated (we love Jazz apples)
1 cup shredded red cabbage
3 tbsp apple cider vinegar
2 tsp raw organic sugar
1 tbsp whole grain mustard
4 tbsp extra-virgin olive oil
1/2 cup fresh parsley, finely chopped (we love Superb Herb)
1/2 tsp sea salt
1/2 tsp fresh ground black peppercorns
Sliced gherkins to garnish
Method
In a large bowl, place beetroot, apple and red cabbage. Add, vinegar, sugar, mustard, olive oil and parsley. Combine well. Season to taste. Set aside until the burgers are ready. You can make the slaw in advance and keep in the fridge.
Heat a barbecue. Cook the veggie gourmet burgers, mushrooms and onion rings with a drizzle of avocado cooking oil.
Combine tomato sauce and mayo. Set aside.
To assemble the burgers. First, place a slice of cheese on a veggie burger. Melt the cheese by placing it under the grill or heat in the microwave until melted. Smear some tomato mayo sauce, then layer with a mushroom, avocado slices, beetroot & apple slaw.  Spread some more tomato mayo sauce on another veggie burger then place it on top of the burger stack sauce side down to complete the sandwich.
Decorate with cooked onion slices and gherkins on top of the burger. Insert a skewer to keep it intact.
Enjoy!
Recipe from Fresh.co.nz