BBQ Nut Crusted Chicken Pitas
BBQ season is upon us, and this crunchy fried chicken, bacon and avocado pita pocket is the perfect way to start the season!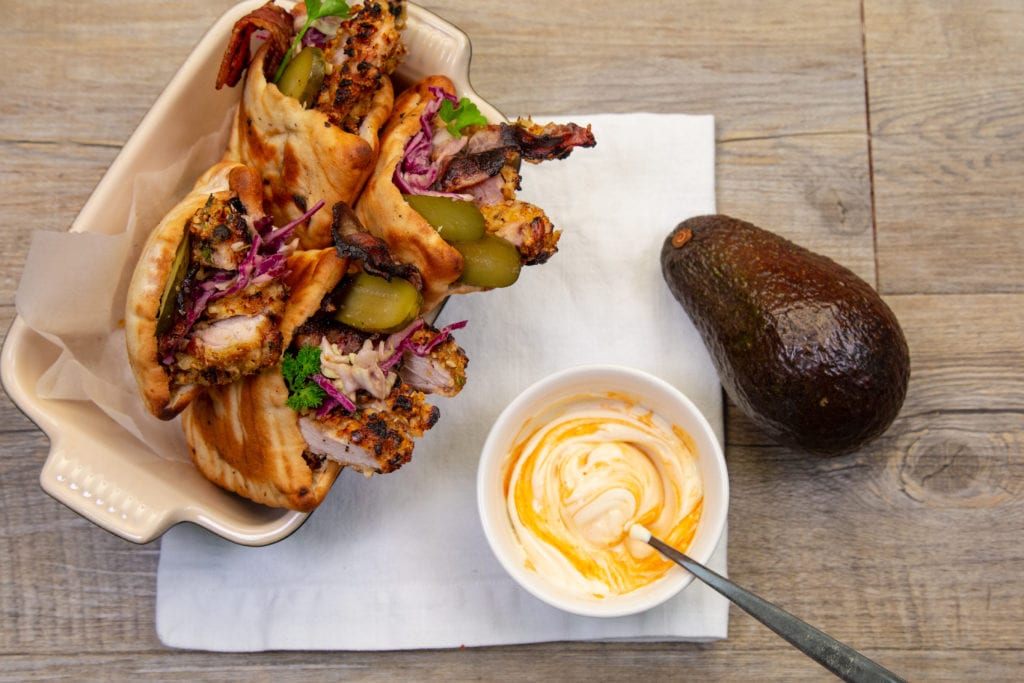 Ingredients
For the chicken
4 boneless skinless chicken thighs - boneless, skinless (we love Waitoa)
1 egg
½ cup milk (we love Anchor)
½ cup Flour (we love Chantal Organics)
1 cup whole almonds, skin on (we love Alison's Pantry)
1 cup Panko crumbs
Avocado cooking oil (Olivado)
A handful of sage - Finely chopped (we love Superb Herb)
4 slices of Bacon (we love Kiwi Bacon)
½ cup sliced gherkins ( we love McClures Pickle)
For the slaw:
2 cups shredded Cabbage - green & red
1 large avocado (we love New Zealand Avocado)
Juice of 1 lime
2 tbsp apple cider vinegar
2 tbsp apple syrup
Method
In a food processor, blitz together the almonds, sage and panko crumbs to make a crumb. Set aside.
Make a slit to the chunky part of the thighs and butterfly to make the chicken pieces into even thickness.
Mix together the milk and egg. Set aside.
Coat the chicken thighs in seasoned flour, then egg mixture, then almond crumb mixture.
On the bbq over a medium heat, cook the chicken with a little drizzle of avocado cooking oil. 4-5 minutes each side until cooked through and golden.
At the same time, fry off the bacon until golden and crispy on the bbq.
Blitz the avocado, lime, maple syrup and vinegar together with a little avocado oil to loosen. Season with salt and pepper.
Coat the cabbage in the avocado dressing.
Grill the pita pockets on the bbq last minute until warmed through and a little charred.
Cut pitas in half.
To assemble, spread some mayo and sriracha inside the half pita, add the avocado slaw, gherkins, chicken and bacon.Serve immediately. Devour!