Beef, beet & bean nachos
The beetroot and lentil sausages in this nacho chilli sets it apart from the rest! Packed with flavour and SUPER simple to make. This crunchy, fresh summer fave is the perfect dish for any dinner party or after work dinner in the sunshine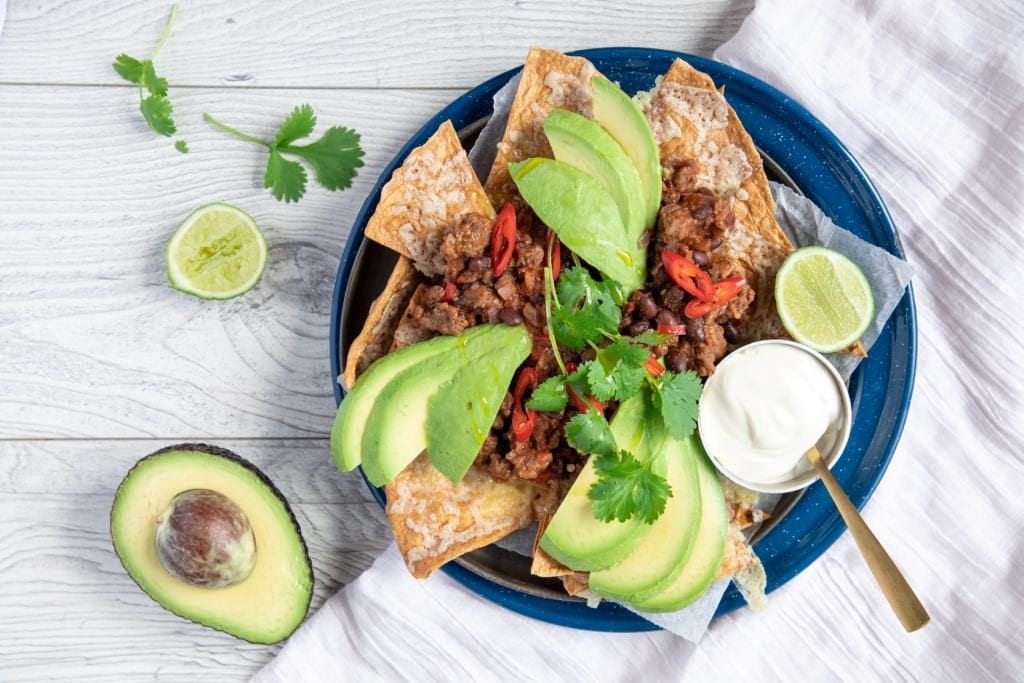 Ingredients
A drizzle of Natural avocado cooking oil (we love Olivado)
2 packets Beef,Beetroot and Lentil Sausages (we love Hellers)
1 red onion - diced
2 cloves garlic - minced
1 tsp ground cumin
1 tsp smoked paprika
1 can black beans (we love Chantal Organics)
1 can chopped Tomatoes
1 can chopped Tomatoes
1 packet tortillas (we love Giannis)
A handful grated cheddar cheese (we love Mainland)
1 red chilli - finely chopped
4 tbsp sour cream (we love Anchor
1 red chilli - thinly sliced
A handful coriander (we love Superb Herb)
1 avocado - sliced (we love NZ Avocado)
2 limes
Method
In a heavy based saucepan over a medium heat, fry off the red onion, chilli and garlic until translucent.
Add the cumin and smoked paprika and fry off for 2 minutes
Remove the skins from the sausages and fry off the meat with the onion spice mixture until it's broken down into mince and looks lovely and golden.
Add the canned of chopped tomatoes and beans. Season with a teaspoon of honey. Stir to combine and place a lid on the saucepan. Turn down to a low heat and simmer for 20 minutes.
Turn oven to 180C. Cut the tortillas into "corn chip" triangles and evenly spread flat on a baking tray. Drizzle with avocado oil and the cheddar cheese. Bake for 15-20 minutes until crispy and golden.
Transfer the cheesey golden tortilla chips into a serving dish. Top with chilli mixture, sour cream, green chilli slices, coriander, avocado slices and limes.
Devour immediately!