Buckwheat Galettes with Prosciutto, Parmesan and Kale
Créperies seem to be popping up all over town these days with the growing dessert craze as well as the tasty savoury delights – but it's sometimes harder to find Gluten Free options. However if you are keen to try something at home – then look no further!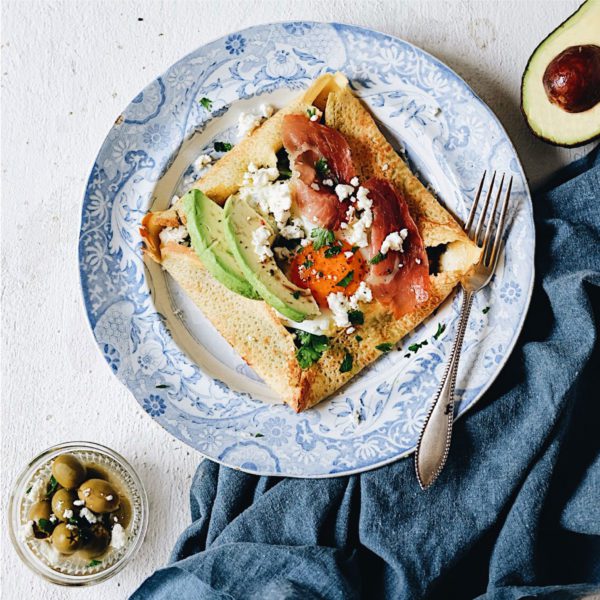 Ingredients
Galette Batter
• ½ teaspoon salt
• ⅔ cup buckwheat flour
• ½ cup all-purpose flour* (see note)
• 1 cup almond milk (regular would work as well)
• ⅓ cup water
• 3 large eggs
• 2 Tablespoons avocado oil (canola would also work)
• Vegan butter (I use Earth Balance or Mikonos)
Fillings
• 2 -3 cups baby kale or spinach
• 4-5 slices prosciutto
• 1 cup shredded parmesan cheese (I used parmigiano reggiano, pecorino would also be great)
• 2 eggs
Method
1. Mix together the dry ingredients using a whisk. Then in a separate bowl mix eggs, milk, water. Slowly add the dry mix until evenly blended.
2. For a premium result, leave the mixture covered and refrigerated overnight.
3.  Now (the next day) Lightly sauteé the greens. Cook up your eggs separately as your preference.
4. Heat a wide, flat pan or a crepé pan on medium heat. Putting a light, even coat of butter on the pan.
5. With approx one quarter of a cup for the batter ideally in a ladle pour on the batter from the centre out – tilt the pan as you add to distribute evenly. Be quick, it will only take about a minute for the batter to set.
*You can then choose to make up the galette with the fillings, or cook all the galettes in a row, then reheat when ready to prepare.
6. Add all of the fillings with the eggs being the last to add, try not to add too much or it will be hard to fold!
7. Fold in the edges of the galette to keep the heat in and wait to serve when the cheese is melted.
8. If you have too much batter you can always pop it back in the fridge and use at a later time.