Garlic Bread BLAT's
A deliciously garlicky take on the classic BLT. We love ours for lunch with crispy bacon and creamy avocados, though we'd happily eat them for breakfast too!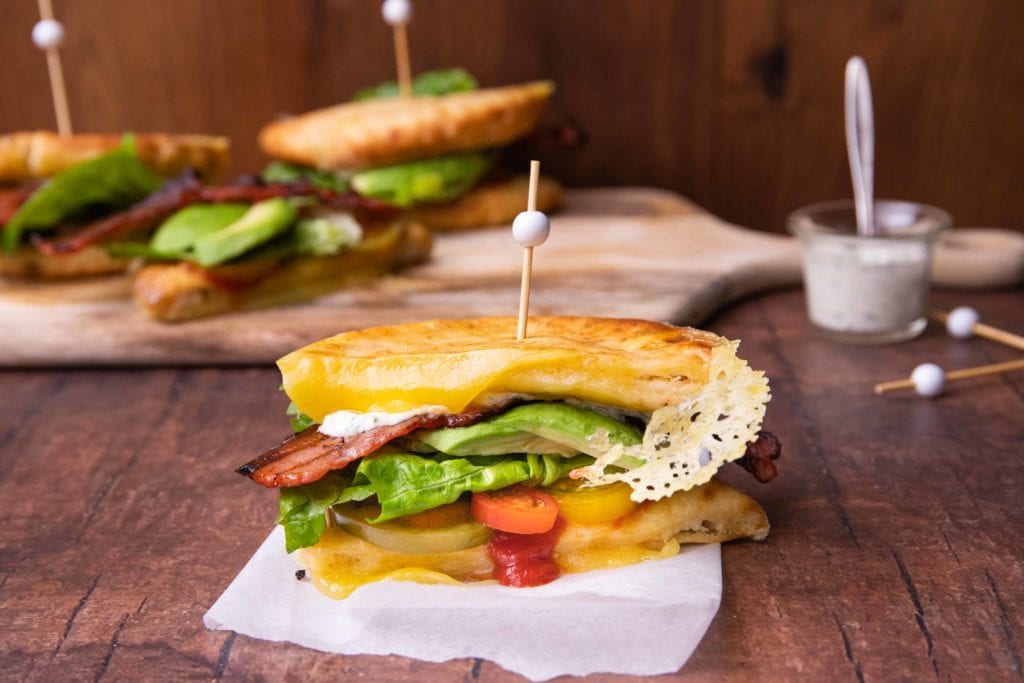 Ingredients
4 garlic breads (we love Giannis)
8 rashers Danish streaky bacon (we love Hellers)
4 tomatoes, sliced (we love Beekist)
8 sweet petite cos leaves (we love The Fresh Grower)
2 New Zealand Avocados, sliced
8 tasty cheese slices (we love Mainland)
3 tbsp mayonnaise (we love Best Foods)
1 tbsp lemon, juice
1 tbsp parsley, chopped, plus extra for garnish (we love Superb Herb)
2 tbsp tomato sauce (we love Chantal Organics)
1 clove garlic, crushed
Method
Turn grill on to 200C.
Lay the bacon rashers on a lined baking tray and grill for 15 minutes, flipping halfway through, until bacon is cooked and crispy. Pop on a plate.
Cut the garlic spread bread into halves, and heat on a tray in the oven while the bacon is grilling, until golden and hot. Melt cheese on top of breads under the grill for 2 minutes.
In a small bowl whisk the mayonnaise, lemon juice, garlic and parsley.
Spread the mayo mix over the cheesy garlic breads. Top with cos, tomatoes, bacon, cheese, avocado and a sprinkling of parsley. Drizzle with tomato sauce, spike with a skewer and dig in.