Loaded beef nacho salad with avocado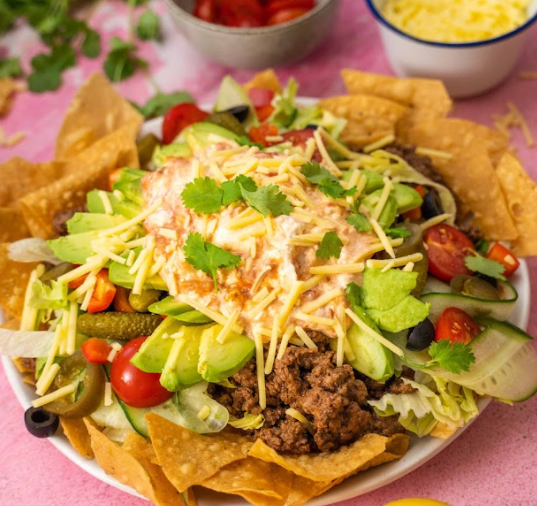 Ingredients
Salad:
1 tbsp Olivado Avocado Cooking Oil
500g Pure South Premium Beef Mince
1 ½ tbsp Pepper & Me Mexcellent Paste
½ Iceberg lettuce, sliced
2 cups Proper Chips Salted Tortilla Chips
1 NZ Avocado, cut in cubes
¼ cup Gherkins, sliced
1 cup NZ Hot House Heirloom Cherry Truss Tomatoes, halved
½ Red capsicum, diced
4 tbsp Cucumber, cubed
3 tbsp Black olives, sliced
Salsa Dressing :
3 tbsp Store bought salsa
½ cup Sour cream
1 Lime, juice
To Serve:
A handful of Cheddar cheese, grated
½ cup Superb Herb Coriander, roughly chopped
¼ cup Jalapenos (optional)
Method
Cook the beef taco: Heat oil in a fry pan and saute beef mince. Add the spice mix. Cook stirring until cooked for 10 minutes. 

Lay lettuce and tortilla chips on a large platter. Place the taco meat in the centre. Scatter rest of the ingredients.

To make the dressing: Whisk together the sour cream and salsa to taste. Add lime juice to taste.

Serve the salad with dressing, coriander, cheese and jalapenos (optional).