Mexican Black Beans with Spicy Avocado and grilled tortilla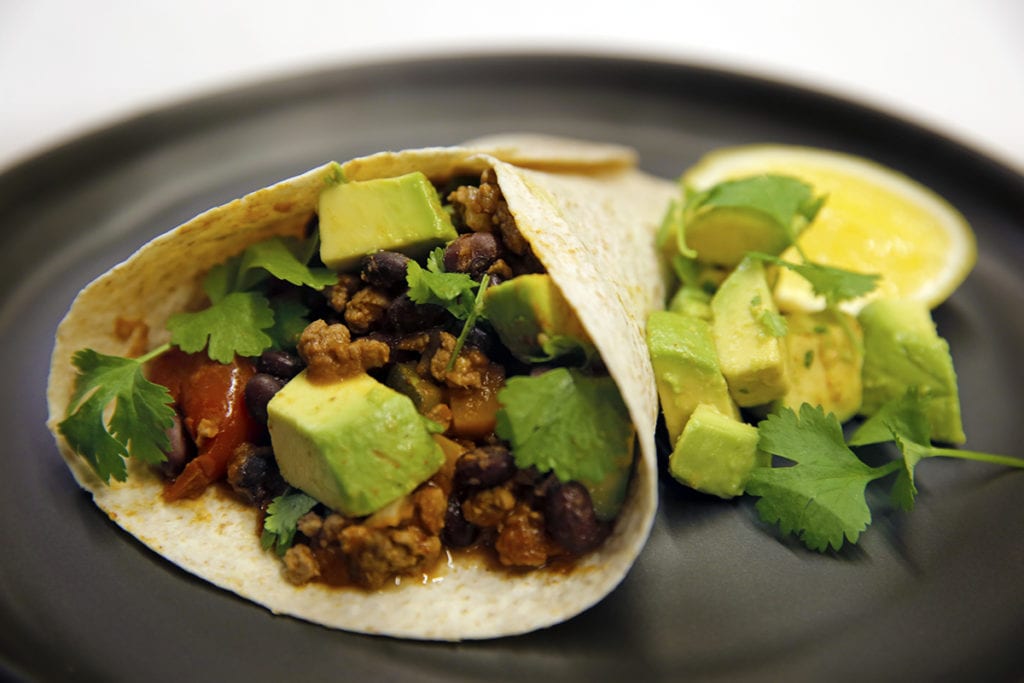 Ingredients
Kenwood mincer

500g rump steak
Dots oil spray
1 large onion, finely chopped
1 large carrot, peeled, diced
1 small courgette, trimmed, diced
2 cloves garlic, minced
1 teaspoon Mexican seasoning, plus extra 1/4 teaspoon
2 tablespoons Delmaine tomato paste
2 x 400g cans Delmaine black beans, drained, rinsed
400g can Delmaine tomatoes
1/2 firm ripe avocado, diced
Squeeze lemon juice (optional)
2 tablespoons Palmers fresh coriander
4 corn tortillas, grilled
Method
Mince the beef. Spray a large saucepan with oil, brown mince and set aside.
Spray a large saucepan with oil. Set over a medium heat. Add onion, carrot and courgette. Cook, stirring occasionally, for 5-6 minutes or until soft. Add garlic and Mexican seasoning. Cook, stirring, for 1 more minute. Add tomato paste and cook for 1 more minute.
Add cooked mince, black beans and tomatoes to saucepan with 1 cup water. Bring to the boil, reduce heat and simmer for 20 minutes or until mixture is thick.
Meanwhile, combine extra chilli powder with avocado and coriander in a medium-sized bowl. Add a squeeze of lemon juice if desired.
Place 1 grilled tortilla on each serving plate. Top with bean mixture and spicy avocado. Serve immediately.