Prawn Tacos Bowls
Crispy deep fried coconut prawns served in homemade taco bowls filled with crunchy fresh iceberg lettuce, spicy, sweet avocado salsa and a zesty coconut lime aioli - next level deliciousness!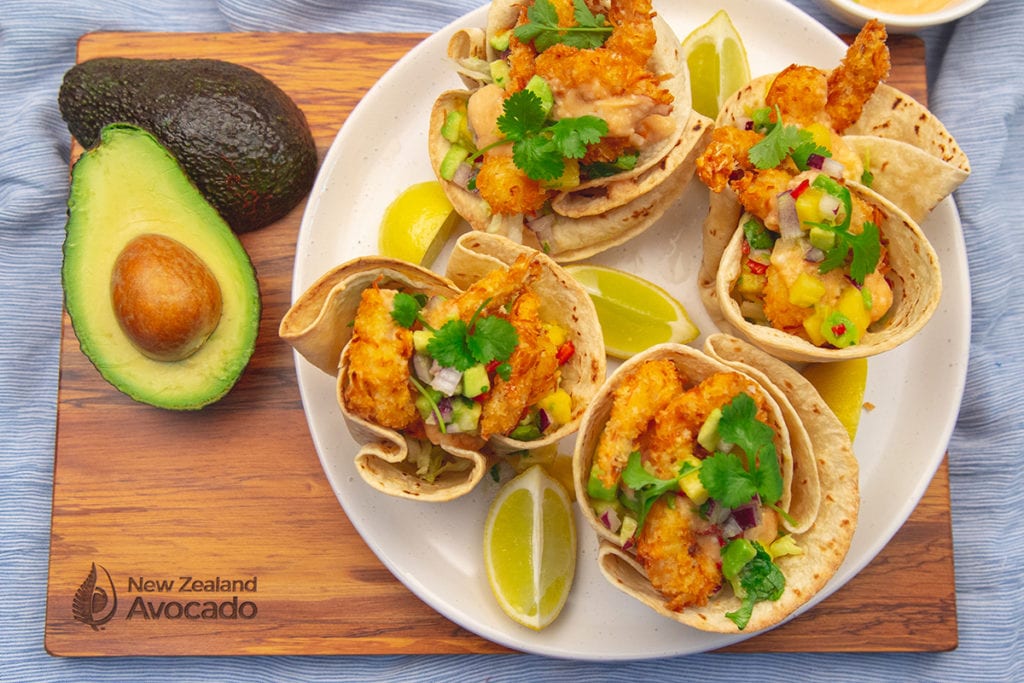 Ingredients
For the prawns

1 cup large king prawns, peeled, deveined, tails intact (we love United Fisheries)
1/4 cup plain flour
1 egg
1/2 cup shredded coconut (we love Alison's Pantry
1/2 cup panko crumbs
Vegetable oil, for shallow-frying

For the salsa

1/4 a Pineapple - diced finely (we love Dole)
1 Avocado - diced finely (we love New Zealand Avocado)
1 Lime - zest and juice
1 Chilli - diced finely
1/2 Red Onion - diced finely
A handful of Coriander - finely chopped (we love Superb Herb)

For the coconut lime aioli

½ cup of natural Coconut yoghurt
1 Lime zest & juice
1 Garlic clove - minced
½ tsp smoked paprika

To serve

Giannis wraps
Iceberg lettuce
Extra Coriander
Extra Lime

Kitchen Equipment:

We used a Le Creuset ramekins
Baking beans
Baking paper
Method
Preheat oven to 180C. Grease 8 large ramekins with oil.
One at a time, press your wraps into each ramekin (you may need to microwave to soften first),Bake for 10 minutes or until you have beautiful golden crispy taco bowls. Set aside.
Place flour in a bowl. Add prawns. Toss to coat.
Whisk egg in a shallow bowl.
Combine coconut and breadcrumbs on a plate.
Dip 1 prawn in egg mixture, then breadcrumb mixture. Place on a plate. Repeat with remaining prawns, egg mixture and breadcrumb mixture. Pop in the fridge to sit until you are ready to fry.
To make the salsa, combine all of the salsa ingredients, stir to combine and season to taste
To make the coconut aioli, combine all of the aioli ingredients, stir to combine and season to taste
In a large heavy based fry pan over a high heat, heat the oil for frying. Fry off the prawns very carefully until golden brown and drain off extra oil with a paper towel.
Fill your taco bowls with iceberg lettuce, salsa, coconut aioli, crispy prawns and fresh herbs. Devour!