Smashed Avo and Bacon on Sweetcorn French Toast
French toast should be made from thick slices of good-quality white bread. The cream style sweetcorn thickens as the batter is cooked, creating a custardy centre with crisp edges. Serve them topped with smashed avo and bacon. A joyful and substantial Mexican /French fusion brunch.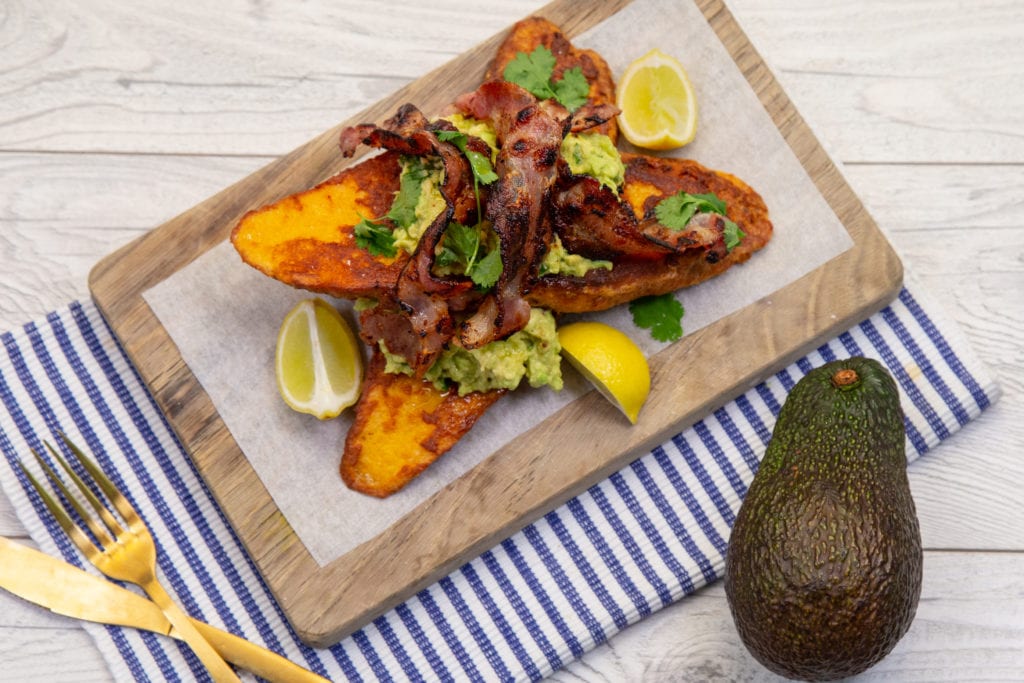 Ingredients
For the French Toast:
4 thick slices white bread
4 free range eggs (we love Woodland Free Range Eggs)
1/4 cup milk (we love Anchor)
Pinch smoked paprika (we love Gregg's)
Pinch of salt
1/2 cup grated cheddar cheese (we love Mainland cheddar)
300g tin creamed style sweet corn
2 tbsp extra virgin olive oil (we love Olivado)
2 tbsp butter
For the smashed avo:
1 Avocado
Juice of 1 lime
Pinch of smoked paprika ( we love Olivado)
Handful of chopped coriander
8-12 rashers of streaky bacon ( we love Kiwi Bacon)
Extra coriander for garnish
Extra lime wedges to serve
Method
In a bowl, mix together the eggs, milk, smoked paprika, salt, cheddar and creamed corn.
Soak the bread in the egg mixture for at least 5 minutes until fully soaked and coated.
In a fry pan over a medium heat, melt a knob of butter. Fry the sweet corn french toast  for 2-3 minutes on each side or until golden and cooked through.
In a separate pan over a high heat, fry off the bacon until golden with a drizzle of extra virgin olive oil.
With a fork, smash the avocado with the lime juice, coriander, a little salt and paprika.
On a beautiful serving plate, stack the french toast, avo smash and bacon. Top with coriander. Serve with lime wedges. Devour!