Avo-Feta Smash with Roasted Veges
4 as a main or 6 as a side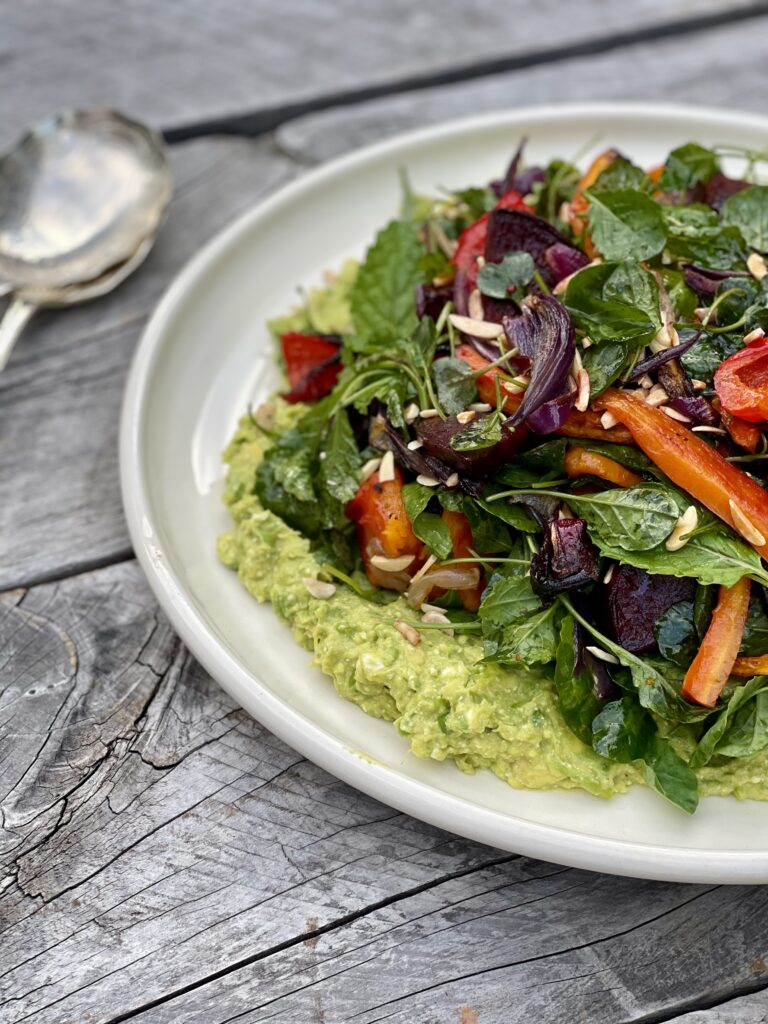 Ingredients
2 medium beetroot, peeled halved and cut into 1.5 cm slices
4 carrots, peeled halved and cut into thick batons
2 medium red onions, halved and cut into thin wedges
450g piece of pumpkin, peeled, seeded and sliced into pieces 1.5 x 4cm
1 tbsp brown sugar
1 tsp salt
Ground black pepper, to taste
3 tbsp olive oil
120g baby kale, baby spinach or rocket, washed and dried
1-2 tbsp lemon juice to serve
2 large ripe avocados
1 cup of peas
70g creamy feta, crumbled
1 fat clove garlic crushed to a paste with 1/2-1 tsp salt, to taste
2-3 tbsp lemon juice, to taste
Extra salt and ground black pepper, to taste
1/2 cup roasted almonds or walnuts, chopped
10-12 mint leaves, torn
Method
The avo-feta smash in this recipe is also fabulous served with corn fritters, as a dip, and as a filling for sandwiches and wraps with rocket and hard-boiled eggs.
Preheat your oven to 180°C fanbake. Line 2 oven trays (1 large, 1 medium) with baking paper for easy clean-up.
Place beetroot on your smaller tray, and the carrots, onions and pumpkin on the other, larger tray. This is to prevent the beautiful red colour from the beetroot from bleeding. Sprinkle sugar, salt, and pepper over your vegetables in both trays and drizzle each tray with oil. Toss to coat. Spread the vegetables out in a single layer on trays and bake until tender and just starting to caramelise (40-45 minutes). Remove from the oven and leave to cool.
To make Avo-Feta Smash, pour boiling water over peas and leave to stand for 2-3 minutes. Drain, and place in a mixing bowl. Mash with a potato masher to break up. Scoop avocado flesh into the bowl, and mash with peas. Add crumbled feta, crushed garlic, lemon juice, and pepper and mash everything together. Check seasonings and add more lemon juice and salt as required.
To assemble, spread the Avo-Feta Smash onto a large serving platter. Add the roasted beetroot to the other tray of roast vegetables together with the almonds, baby leaves, and most of the almonds. Toss to combine on the oven tray. Pile on top of Avo-Feta Smash and garnish with remaining nuts and torn mint leaves. Serve within an hour to avoid wilting.