Venison steak rice noodle salad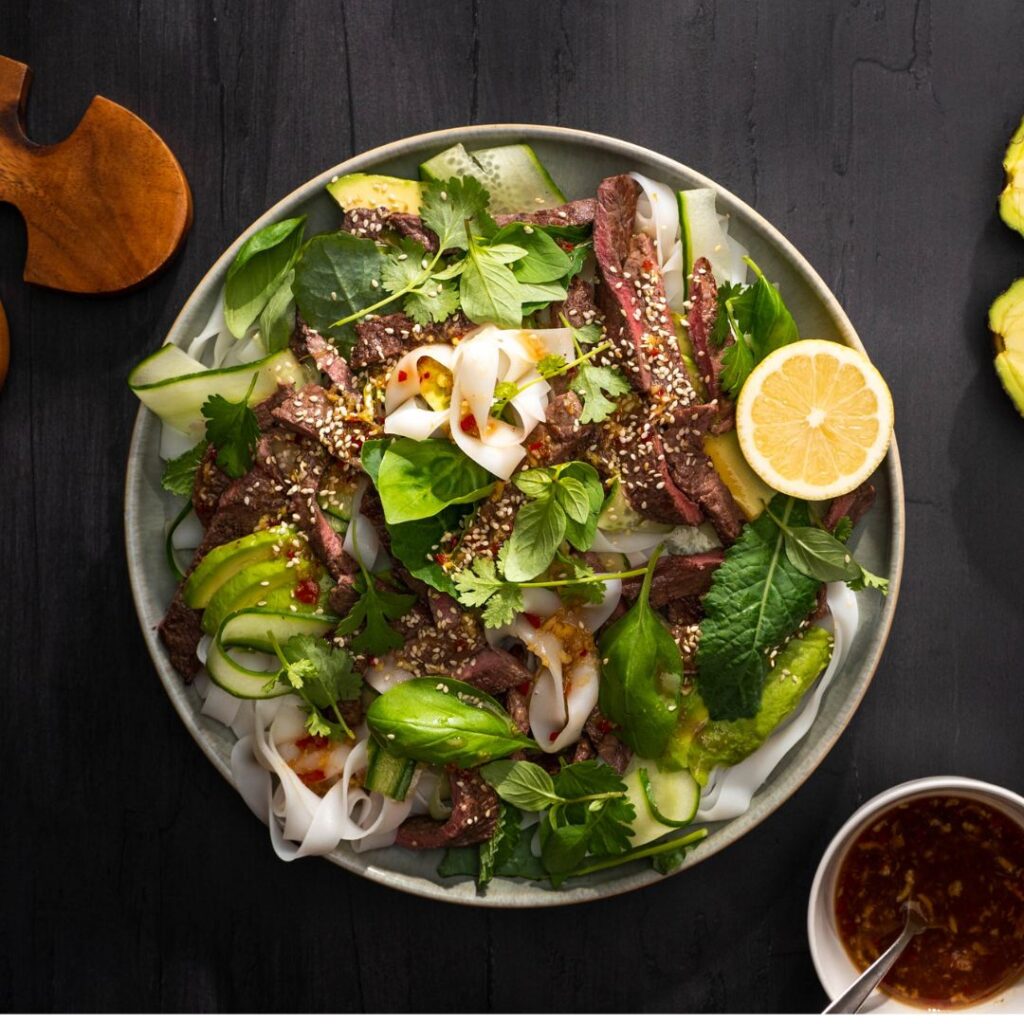 Ingredients
Steak salad
400g New Zealand farm raised venison minute steaks
Lee Kum Kee pure sesame oil
salt
pepper
1/2 cucumber, thinly sliced
2 cups Superb Herb kale, coriander, Thai basil, basil etc. (assorted herbs)
1 NZ avocado, sliced
-
Dressing
2 tbsp DYC white vinegar
2 tbsp Golden Sun sweet chilli sauce
1 tbsp Golden Sun fish sauce
1 tsp Lee Kum Kee premium soy sauce
2 tsp sugar
1 tsp grated garlic
2 tsp grated fresh ginger
2 tsp Superb Herb lemongrass, grated
1 red chilli
-
To serve
Lemon wedges to serve
FreshLife sesame seeds, toasted
125g dried rice stick noodles or 300g homemade rice noodles
Method
Enjoy the light rice noodles in this summer salad paired with tender venison minute steaks and plenty of herby greens. Flavourful sweet & sour chilli dressing transforms the salad exotic and delicious. Lovely for casual entertaining.
Prep time: 20 min
Cook time: 8 min
Serves: 4 
Method 
Rice noodles :

  Prepare dry noodles according to the packet instructions. 

Alternatively

make

homemade rice noodles

 

 

Mix all the dressing ingredients. Set aside. 

Oil and season the venison steaks and barbecue or pan fry to your liking. Rest the steaks for 10 minutes, then slice. 

Arrange the rice noodles on a platter or individual bowls. Top with salad ingredients and steaks. Pour dressing all over, sprinkle sesame seeds and serve with lemon wedges.