Venison koftas with avocado
Venison koftas are a delicious meal to barbecue for good friends and gatherings. We use oats and fragrant fresh herbs in the koftas for extra texture and flavour.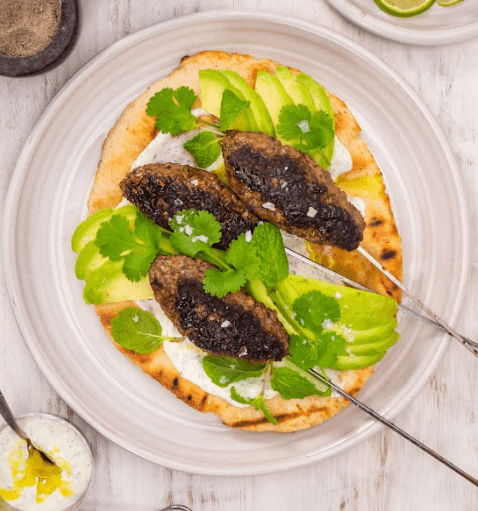 Ingredients
Venison koftas:
500g New Zealand farm raised venison mince
½ cup Harraways scotch oats
⅓ cup Superb Herb mint, chopped
⅓ cup Superb Herb coriander, chopped
1 small red onion, grated
1 carrot, grated
1 small courgette, grated
2 garlic cloves, crushed
1 tsp ground cumin
1 tsp ground coriander
½ tsp ground cinnamon
½ tsp salt and pepper
2 tsp Olivado avocado oil & chilli
Olivado avocado oil & chilli, for frying*
2 NZ Avocados, scooped and sliced
1 pottle Obela tzatziki
½ cup Superb Herb mint and coriander leaves, torn
5 pitas
Equipment: 10 metal or pre soaked wooden skewers
Method
In a large bowl mix all venison kofta ingredients until well combined. Leave to sit for 10 minutes (the oats will swell).

Divide the kofta mixture into 10 balls and shape into ovals around the skewers.

Preheat the barbecue to medium-high heat. Drizzle liberally with oil.

Cook koftas on the barbecue for 10 minutes or until well cooked, turning regularly and brushing with oil as needed. Once the koftas are almost done, heat the pitas on the barbecue.

To serve, pull koftas off skewers and lay in a pitta. Top with tzatziki, avocado and fresh herbs. Yum!
* As venison is a very lean meat be liberal with oil on the barbecue. If you're cooking for the whole family then use avocado oil instead of avocado oil with chilli.