Yu Sheng
Yu Sheng is enjoyed mainly in Singapore and Malaysia during the Chinese New Year period to wish "Good Luck" for the coming year! The plate is full of colourful shredded vegetables, raw fish and some toppings. Each item/colour has a meaning, like how green items represent youthfulness. I am hoping that adding avocado will give you not only the creamy texture to the salad, but also the youthfulness for the coming year!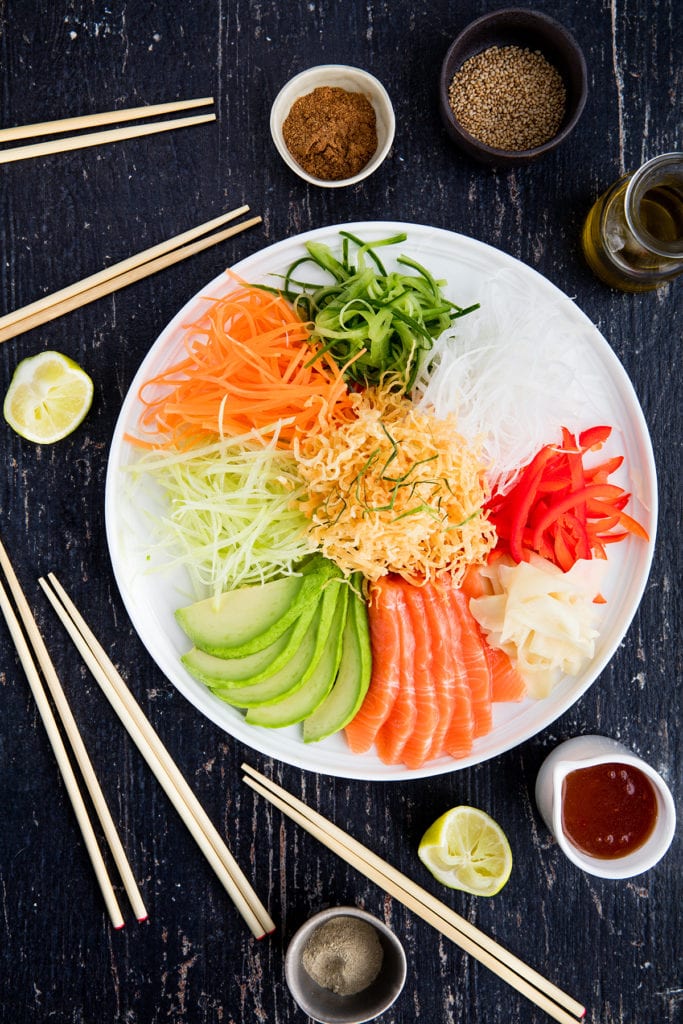 Ingredients
1 avocado, peeled, stone removed and sliced
1/2 green papaya, julienned
1/4 cucumber, julienned
1/2 small carrot, julienned
1/4 daikon, julienned
1 small red capsicum, cut into strips
50g Japanese pickled ginger
200g salmon (sashimi grade), sliced

Toppings:

1 kaffir lime leaves, cut into fine slices
5 sheets of wonton wrappers, cut into thin strips
2 Tbsp roasted peanuts
2 tsp toasted sesame seeds
1/2 lime
1/8 tsp white pepper
1/4 tsp five spice
1 tsp Olive oil

Oil for deep frying

Plum sauce:

3 Tbsp plum sauce
2 Tbsp hot water
1 tsp sesame oil
Method
1. Mix the plum sauce well in a small ramekin and set aside
2 .Heat oil to 180 degrees and deep fry the wonton skins until a light golden colour. Drain excess oil on a kitchen paper and set aside
3. On a large plate, arrange all the ingredients and garnish with kaffir lime, won ton, roasted peanut, sesame seeds and serve the rest of ingredients on the side.
4. Gather around the plate with your guests or family and friends, and squeeze lime juice, drizzle olive oil and the plum sauce, sprinkle white pepper and the five spice. Get your chopsticks ready and toss the salad together!