Crunchy Chickensticks with Avocado Sweetcorn Dip
An easy and nutritious recipe that the kids will love.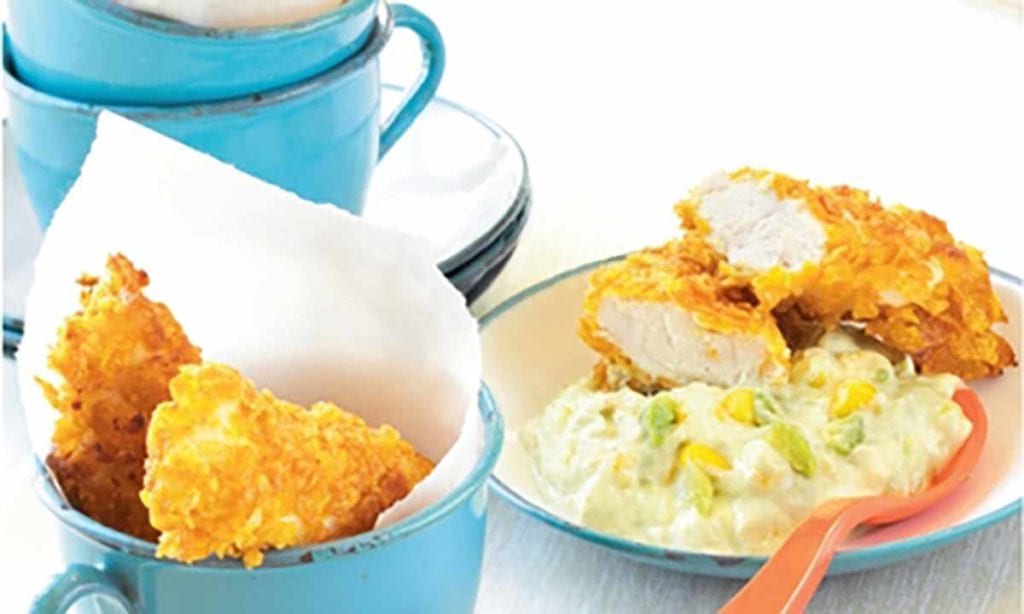 Ingredients
1/2 avocado
2 tbsp yoghurt greek style
125g can sweet corn (rinsed and drained)
500g chicken breast
100g cornflakes
1 egg
1/2 cup flour
2-3 tbsps oil
Method
Mash avocado with a fork. Combine with yoghurt and sweetcorn.
Set aside in the fridge until needed. Warm oven to 100C. Cut chicken halves lengthways, cut across grain, then halve again to have fingersize chicken pieces. Put cornflakes in a sandwich bag and close. Roll over with a rolling pin and crush cornflakes finely. Swirl egg slightly and put on a deep plate.
Put flour in a second deep plate and cornflakes in a third deep plate. Dip each piece of chicken, one at a time, first in the flour (shake off any excess), then in the egg and at last in the cornflakes. Press on firmly then transfer them to a large tray.
Heat oil in a non-stick frying pan and fry chickensticks in batches for about 6 minutes each side until cooked through.
Keep warm in the oven until all done. Serve with avocado-sweetcorn dip.
Tip:  Put the flour in a big snap lock bag. Drop chicken pieces in the bag to coat evenly with flour and shake off any excess.