Vegan chocolate avocado pie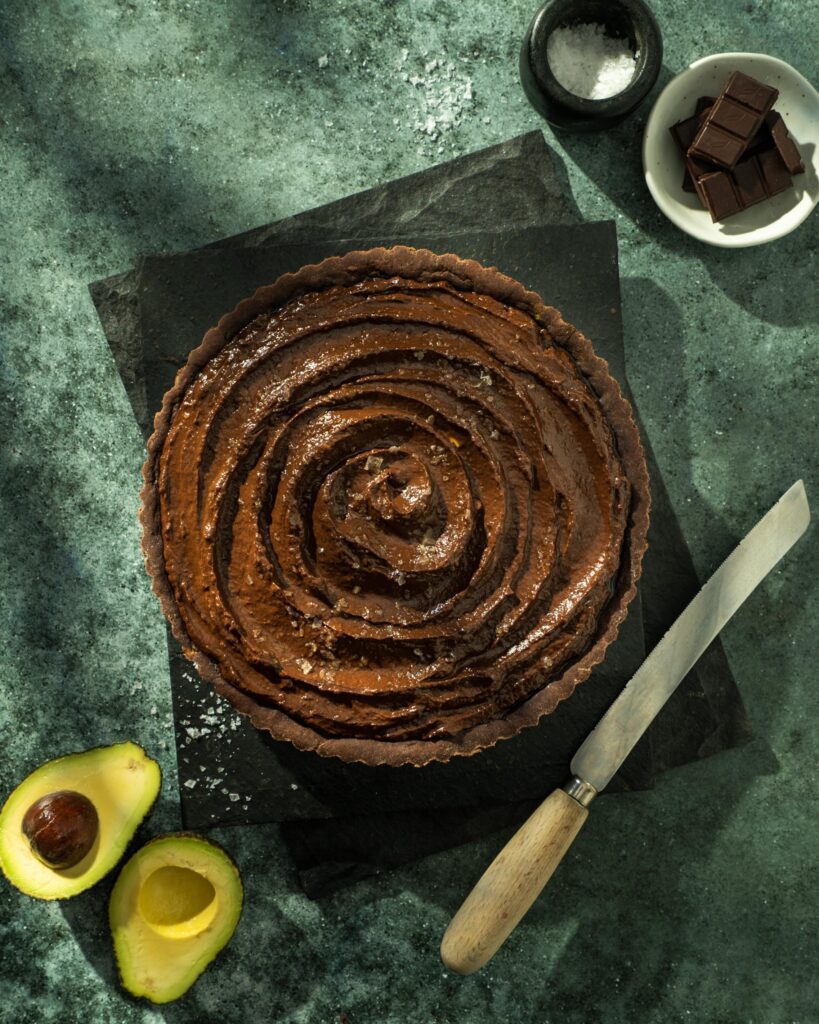 Ingredients
Avocado pastry crust
200g mashed NZ Avocado approx. flesh from 2 medium sized avocados
350g self raising flour plus extra for flouring the bench
50g cocoa powder
2 tbsp maple syrup
Ice cold water as needed
Pinch of salt
-
Pie Filling:
3 NZ Avocados, scooped
⅓ cup VGood HazelNOT Choc Chickpea Butte
½ cup cocoa powder
½ cup maple syrup, or to taste
Pinch of sea salt (plus extra for topping)
200ml Chantal Organics coconut cream, chilled
Method
Yes, you've read that right… a vegan chocolate pie made from avocados! Both the pastry and the filling feature healthy and creamy avocados.
Method:
For the avocado pastry:

Add mashed avocado to a large bowl with flour, cocoa and salt. Add maple syrup, then cold water, a tablespoon at a time, until a dough forms. Turn out onto a floured surface and knead well. Wrap in clingfilm and rest for 15 minutes in the freezer.

Preheat the oven to 200°C.

Grease and line a 26cm pie dish. Roll out pastry, then lift in and press down. Prick pastry with a fork all over, cover the bottom with a piece of baking paper and place pastry weights. Bake in the oven for 10 minutes. Remove the weights and paper, then return to the oven. Bake for a further 10 minutes or until golden. Let the pastry case cool completely. 

Make the filling: Place all ingredients except coconut cream in a blender or food processor and blend on high until smooth. Add the top half of the can of chilled coconut cream (this half is thicker after refrigeration) and blend until smooth. 

Fill the avocado chocolate filling in the prepared pie dish. Sprinkle with salt. Refrigerate for 30 minutes before serving.