Vegetarian "Fish Finger" Wraps with pea puree
This one goes out to all our veggie brothers and sisters out there that are craving that fish fix  but can't quite bring themselves to do it. We understand, and we have the perfect fix for you!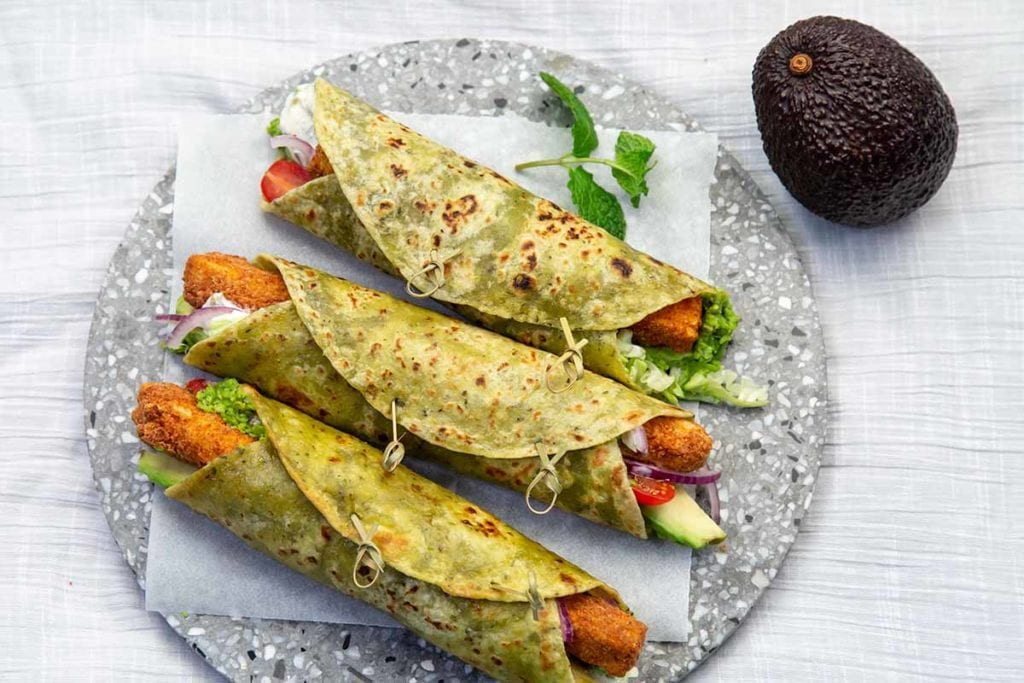 Ingredients
For the tofu

1 block Tofu (We love Bean Supreme)
¼ cup flour
1 egg
1 cup breadcrumbs (we love Diamond)
1/2L cooking oil for shallow frying

For the mushy peas

1 cup fresh or frozen peas
juice of ½ lemon
1 Tbsp Extra Virgin Olive Oil (We love Olivado)
A handful of fresh mint (we love Superb Herb)

For the tartare sauce

½ cup Mayonnaise
A handful Parsley
½ cup sliced gherkins
juice of ½ lemon
Salt

For the wraps

1 cup shredded lettuce (we live Fresh Growers)
1 small red onion, thinly sliced
1 avocado, thinly sliced (we love NZ avocado)
½ punnet cherry tomatoes, sliced
4 wraps (we love Giannis)
Method
Slice Tofu into 1cm fingers. Pat dry with kitchen paper if it is too wet, then thinly coat with flour. Dip in the beaten egg, then coat with bread crumbs.
Shallow fry the Tofu "fish" fingers until golden and crisp in hot oil.
Meanwhile, boil the peas for 3 mins, then drain, add the oil, mint, salt and lemon juice, and blitz with a hand blender until smooth. Pour into bowl and Set aside.
In the same food processor, blitz together mayo, lemon juice, parsley and gherkins until smooth. Set aside.
Warm the wraps in the microwave or on the stovetop. Spread with the pea purée and tartare sauce. Scatter with the lettuce, then top with onion, avo, tomato gherkins and the tofu 'fish' fingers. Garnish with some parsley. Roll up and eat while still hot!