Avocado, Prawn and Mango Summer Spring Rolls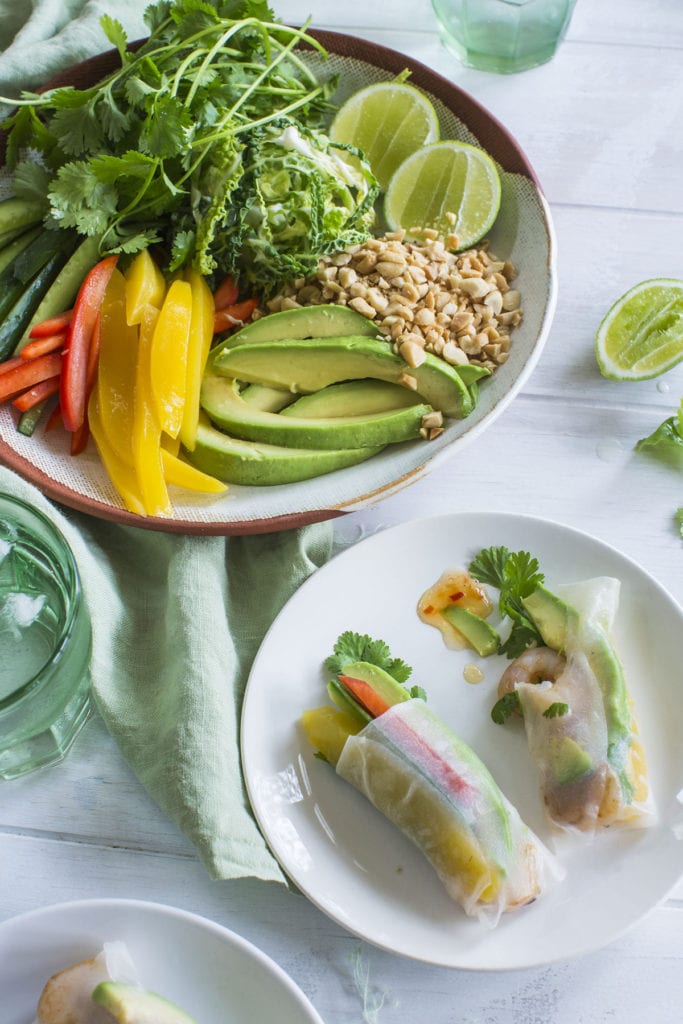 Ingredients
2 tablespoons oil (e.g. peanut, canola, soy)
400-500g raw shelled prawns or thinly sliced chicken breast (or a combination)
2 stalks lemongrass, finely chopped
2 cloves garlic, finely chopped

To assemble

20 large sheets rice paper
1 large ripe mango, peeled and thinly sliced
2 firm ripe avocadoes, sliced
½ telegraph cucumber, halved lengthways, seeds removed and sliced into thin 4cm-long batons
1 red capsicum, cored and cut into thin strips
½ cup finely chopped roasted peanuts
1 cup chopped coriander

Sweet chilli and lime dipping sauce

4 tablespoons sweet chilli sauce
Juice of 2 limes
1 teaspoon sesame oil
1-2 tablespoons soy sauce or fish sauce, to taste
Method
Pat prawns dry with paper towels and season with salt. Heat oil in a wok or large fry pan on high heat and cook prawns and/or chicken, lemongrass and garlic for 3-5 minutes or until prawns and /or chicken is just cooked through. Set aside to cool.
When ready to assemble rice summer rolls, place a clean damp tea towel flat on the bench. Soak 1-2 sheets of rice paper in a shallow dish of warm water at a time for 20-30 seconds. Carefully transfer to clean damp flat tea towel. Place a slice of mango, avocado, cucumber and capsicum in the centre of the rice paper. Top with 1-2 prawns, sprinkle over a few peanuts and some coriander. Be careful not to over-fill the wrappers (or they will be too hard to roll!).To roll the wrappers, flip bottom half of rice wrapper over the filling, then fold in edges and roll wrapper up. Transfer to a serving plate with the seam side down.
Combine all dipping sauce ingredients.
Serve summer rolls with a bowl of dipping sauce on the side.