#Avopartyanyway – Avocado tortillas served with charred avocado, sweetcorn & black bean salsa
Have fun making these delicious tortillas which are easy to make and versatile enough to work with the toppings of your choice.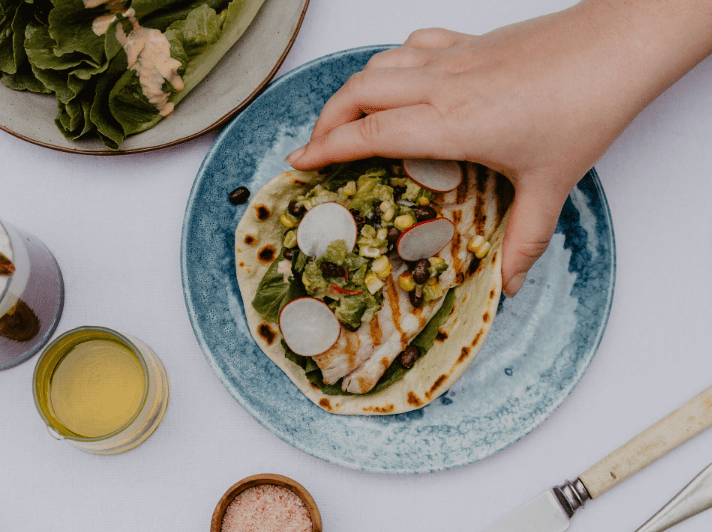 Ingredients
1 cup of flour
3 tbsp mashed avocado
¼ cup hot tap water
Pinch salt
-
½ cup of protein of your choice e.g. chicken, beef, halloumi, tofu
¼ cup mayonnaise spiked with chipotle, tabasco or the flavouring of your choice
1 radish thinly sliced or other crunchy vegetable
¼ cups cucumber (pickle this if you're feeling adventurous)
1/4 iceberg lettuce or other lettuce of your choice
Coriander leaves for garnish
-
For the salsa
1/2 avocado
1 Sweetcorn
2 shallots or ¼ red onion
Handful of coriander
3 tbsp spoons tin of black beans or beans of your choice
1 red chili or pinch of chilli flakes
¼ peeled and deseeded cucumber
To taste lime juice or lemon juice
To taste extra virgin olive oil
2 lime wedges
Method
Make the avocado tortilla dough. Combine the flour and the mashed avocado in a large mixing bowl, working in the avocado with your fingers until incorporated. Dissolve salt in the water, pour about two thirds  over the dry ingredients and immediately work it in with a fork. The dough will be in large clumps rather than a homogeneous mass. If all the dry ingredients haven't been dampened, add the rest of the water (plus a little more, if necessary). 
Put the dough onto your work surface and knead until smooth. It should be medium-stiff consistency — definitely not firm, but not quite as soft as most bread dough either.
Rest the dough. Divide the dough into 6 portions and roll each into a ball. Set them on a plate, cover with plastic wrap and let rest at least 30 minutes (this makes the dough less springy, easier to roll).
Now make the salsa if using. Place avocado and sweetcorn in a grill pan or BBQ and char until tender. Leave to cool. Finely dice the shallots and chili. Thinly slice the cucumber and pickle if doing so. Chop the coriander. Rinse the tinned black beans. Chop the avocado and remove the sweetcorn from the cob. Mix everything together.  Season with salt, lime juice and extra virgin olive oil. Put aside ready for use. 
Heat an ungreased heavy pan over medium to medium-high heat. On a lightly floured surface using a rolling pin, roll each portion into a 9-10cm circle.  Put the bread into the hot pan (you should hear a faint sizzle and see an almost immediate bubbling across the surface). Cook for 30 to 45 seconds, when there are browned splotches underneath then flip it over and cook until the other side is browned.  Be careful not to burn. Repeat until all are cooked
Brush the protein of your choice with canola oil and season with salt and pepper and fry on a grill pan or on a bbq until just cooked through.  
Warm some tortillas so that they are soft and pliable.  The microwave is good for this. Dress some lettuce with your spiked mayonnaise and lay a bed onto the tortilla. Top with salsa, cucumber, radish, chopped coriander and lime wedge.
Feeling fancy? Why not make your own chipotle mayonnaise or pickle the cucumber for a nice little twist. Recipes available at kitchentakeover.co.nz