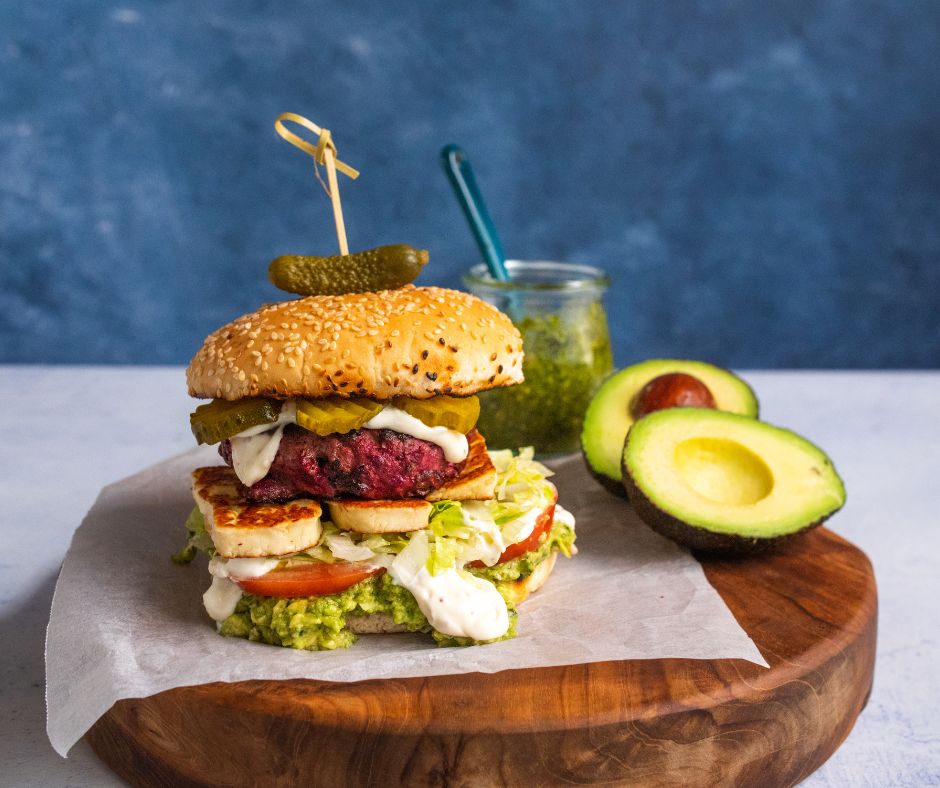 Ingredients
½ cup grated beetroot*
500g beef mince
1 egg, whisked
1 tsp Dijon mustard
1 tbsp Superb Herb basil, chopped
¼ tsp pepper
½ tsp salt
4 Tip Top supersoft sesame king burger buns
8 thin slices of halloumi
1 tomato, thinly sliced
¼ Iceberg lettuce, shredded
⅓ cup aioli
½ cup sliced pickles (optional)
-
Avocado Smash:
1 NZ avocado, peeled and stone removed
1 tbsp Superb Herb Basil, chopped
2 tbsp Seasons Gourmet vegan chunky dips – basil & cashew with lime
½ tbsp fresh lemon juice
Season with salt and pepper
Method
Whip up these tasty beetroot burgers on the barbecue in no time for a quick and easy summer meal. It's a great way to sneak veggies into a family favourite! With smashed avocado they will be a crowd pleaser.
Special equipment : Barbecue

Method:
Place all avocado smash ingredients into a bowl. Mash roughly with a fork until just blended together and still a little chunky. Set aside.

In a large bowl add the grated beetroot, mince, egg, Dijon mustard, basil, salt and pepper. Mix until combined. Split the mix into four piles. Roll each pile into a patty shape roughly the size of the burger buns. 

Heat your barbecue. Once the grill plate is hot, cook the patties for roughly 4 minutes each side or until browned and cooked right through. At the same time, cook the halloumi slices on the barbecue for 1–2 minutes each side until golden. Remove from the grill and set aside. 

Lather the cut side of the burgers with aioli, then place the burger buns cut side down onto the barbecue grill plate for 1–2 minutes until golden and warmed. 

Build your burger. Place the base of the bun on a plate. Lather over a generous amount of avocado smash. Place the beetroot patty over, layer slices of halloumi and pickles, tomato slices and lettuce. Top with a burger bun. 

Enjoy your burger with fries or your favourite burger sides. 
Tips:
 – *Make sure to squeeze any moisture out of the grated beetroot with paper towels before adding it into the patty mixture. You may want to wear gloves as the beetroot can stain your hands.
– Use a store bought patty to make this meal even faster to prepare. You can find vegan beetroot patties in most supermarkets in New Zealand to suit vegan and vegetarian needs.