Chirashi Sushi
Using avocado and marinated tuna turns the ordinary chirashi into something special. If you have time, marinate the tuna for couple of hours in a fridge for the perfect taste.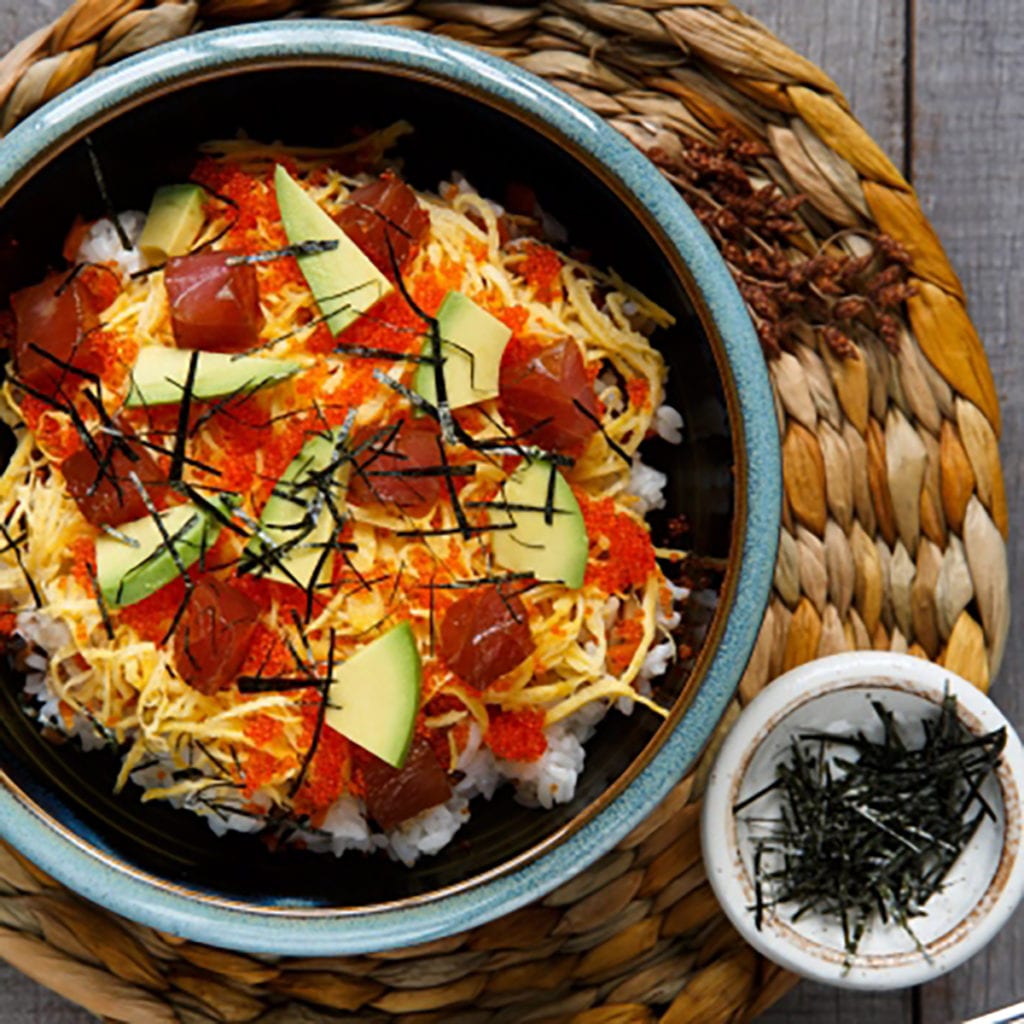 Ingredients
1 1/2 cup short grain rice 350 ml water
60ml sushi vinegar

Carrots and Shiitake:

1/4 carrots, finely chopped
3 dried shiitake, soaked in water overnight in fridge, finely
sliced (reserve / keep the liquid)
1/2 tsp Dashi powder
1 tsp Mirin sauce
1 tsp cooking sake
1 Tbsp Soy sauce
1 tsp white sugar

Kinshi Egg:

1 eggs
1 tsp white sugar
Pinch of salt

Marinated Tuna:

70g fresh Tuna, cut into small blocks
1 Tbsp Soy sauce
1/2 Tbsp Mirin
1/2 Tbsp Cooking sake
1/4 Avocado
Shredded nori
Salmon Roe / Tobiko
Method
Sushi rice: Cook rice as per instruction on the pack. Once cooked, mix with sushi vinegar and set aside
Carrots and shiitake: Put all the ingredients plus 150ml of reserved shiitake stock (if you don't have enough, add water to make it to 150ml) in a small pot and bring to boil. Reduce heat to medium and cook for 5-8 mins. Set aside (you can make this a night before and keep in a fridge till you use)
Kinshi Egg: Beat egg and mix with sugar and salt. Mix well and run though strainer. Heat up a small frying pan over medium heat and pour 1/2 of mixture into the pan. Cook for 1 minute and flip over to cook another side for 1 min. Repeat this to cook another one. Roll up the cooked egg and slice very thinly
Tuna: In a small pot, add soy sauce, mirin and cooking sake and bring to boil to get rid of alcohol. Remove from heat and marinate tuna in the sauce for 30 minutes or longer once the liquid has cooled down. To assemble, squeeze the liquid out from shiitake and carrots and mix with sushi rice. Put the rice in the serving plate / bowl. Spread the thinly sliced egg on top of the rice. Decorate the Chirashi with Avocado, marinated tuna, Tokiko and garnish with shredded nori.