Gluten Free Mexican Chicken Nourish Bowls
These gluten free Mexican chicken nourish bowls can be whipped up in half an hour. The flavours are punchy, crunchy and fresh! Best of all it's an uber healthy and wholesome meal.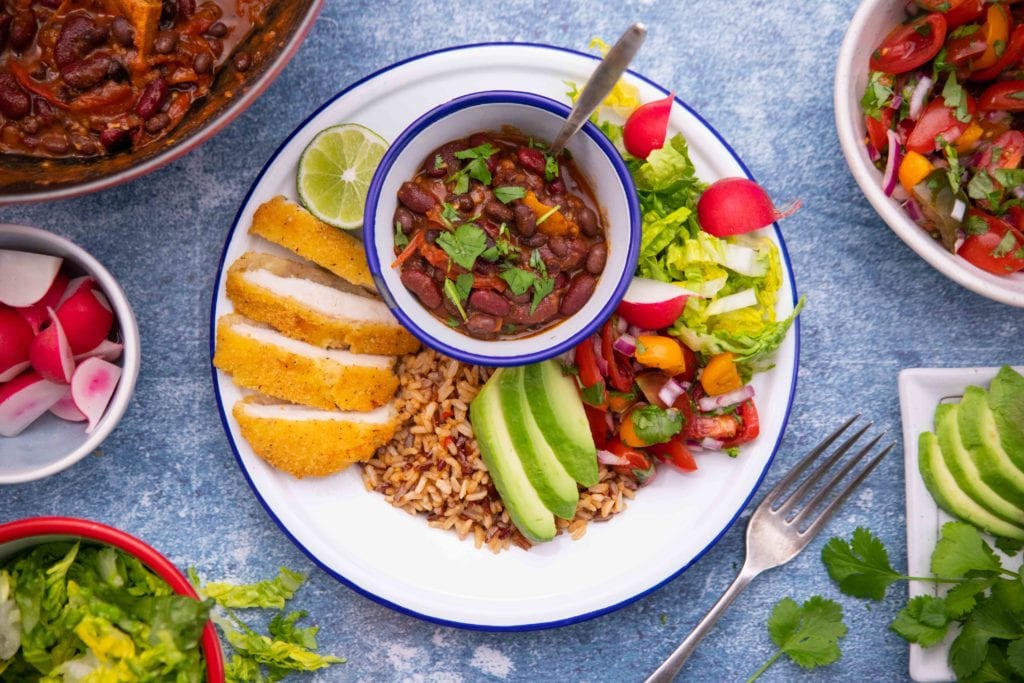 Ingredients
2 boxes of Waitoa gluten free premium chicken fillet burgers
2 pouches SunRice brown rice and red rice infused with chilli and garlic
2 New Zealand Avocados, scooped and in slices
4 small radishes, in quarters
1 head of The Fresh Grower sweet petite cos, shredded finely
-
For the chunky salsa:
2 cups Beekist Chef's selection tomatoes, in quarters
¼ red onion, diced
1 lime, juice only
2 tbsp Superb Herb coriander, roughly chopped
Salt, to taste
-
For the smoky beans:
1 can Chantal Organics black beans, rinsed and drained
1 can Chantal Organics Mexican style beans
2 garlic cloves, crushed
1 tbsp Olivado avocado oil and garlic
½ tsp Mrs Rogers ground cumin
tsp Mrs Rogers coriander powder
1 tsp Mrs Rogers smoked paprika
½ tsp salt
1 cup selection of beekist tomatoes in chunks
-
To garnish:
A bunch of Superb Herb coriander
2 limes, in halves
Method
Preheat oven to 220C.
Lay the chicken fillets on a baking tray lined with baking paper and bake for 15 minutes on each side, until cooked and golden.
Heat the rice pouches as per instructions.
For the smoky beans: heat the oil in a frying pan. Fry the garlic for 2 minutes. Add the cumin, paprika and coriander powder and fry for another minute. Add the black beans and Mexican style beans, and fry for 5 minutes, until hot and spiced. Season with salt.
For the chunky salsa: combine tomatoes, onion, coriander and lime juice in a bowl. Season with salt.
To serve: Slice the chicken fillets. Arrange the sliced chicken fillets, rice, avocados, radishes, cos, smoky beans and chunky salsa in four bowls. Garnish with fresh coriander and lime and dig in. Delicioso!