Hoisin Tofu Buddha Bowls
According to the Urban Dictionary, a "Buddha bowl" is defined as "a bowl which is packed so full, it has a round 'belly' appearance, much like the belly of a Buddha." Funnily enough, most buddha bowls are full of fresh and nutritious deliciousness. Sesame crusted hoisin tofu, roasted sweet potatoes, quinoa, avocado, hummus and kale - Comforting, healthy, delicious and filling!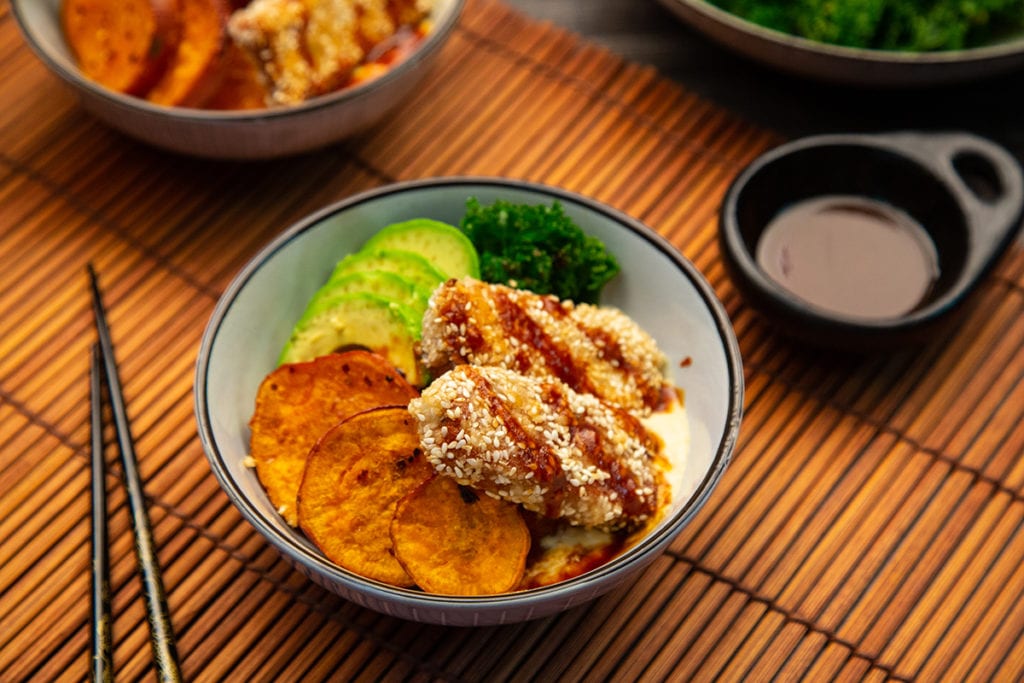 Ingredients
For the tofu

1 block hoisin marinated tofu - cut into 1 inch slices (we love Bean Supreme)
1 cup rice flour
1/4 cup sesame seeds
3 tbsp panko crumbs
Liquid coconut oil (we love Olivado)

For the Kumara

1 orange kumara - Sliced 1cm thick rounds
avocado cooking oil
1/4 tsp ground cumin
¼ tsp ground chili flakes

For the quinoa

1 cup quinoa
2 tsp hoisin sauce (we love Lee Kum Kee)
2 tsp soy sauce

To serve

2 cups kale
1 avocado, thinly sliced (we love NZ Avocado)
1 pot Lisa's hummus
a drizzle of hoisin sauce
We used a Le Creuset non-stick baking tray for cooking kumara.
Method
Preheat oven to 200C. Place kumara slices on a non-stick baking tray. Drizzle with avocado cooking oil, sprinkle with cumin, and chili. Bake for about 20 minutes, or until soft and golden.
In a large saucepan cook the quinoa according to packet instructions and add the hoisin sauce and soy sauce.Mix well.
Steam the kale on top of the boiling quinoa in a sieve with the lid on the pot for roughly 2 minutes or until kale has wilted.
Place 1/2 cup of rice flour in a bowl, set aside. In another bowl combine the remaining 1/2 cup of rice flour with ¼ cup water. Whisk until no lumps remain. In a third plate, combine the sesame seeds with the breadcrumbs.
Dry the tofu with kitchen paper
Take a slice of tofu, coat it in the rice flour and shake off excess. Then dip it into the wet batter to coat it lightly, and finally lay the tofu in the sesame-breadcrumbs. Repeat until you have coated all of the tofu.
Heat a large heavy based pan over a medium heat.
Shallow fry the tofu in the liquid coconut oil over a medium to hot heat until golden. Shake off excess oil and transfer onto paper towels.
To assemble the bowls. Place about 3 tbsp of hummus in each bowl, Top with cooked quinoa, roasted sweet potatoes, steamed kale, avocado, and sesame crusted tofu.
Drizzle with hoisin sauce and devour!