Pulled Lamb Tacos With Avocado
Square cut lamb shoulder is the perfect cut for slow cooking. We slow cook ours with spices and orange slices for a delectable pulled lamb. The pumpkin seeds add delicious spicy crunch. Invite your friends over for this foodie fiesta.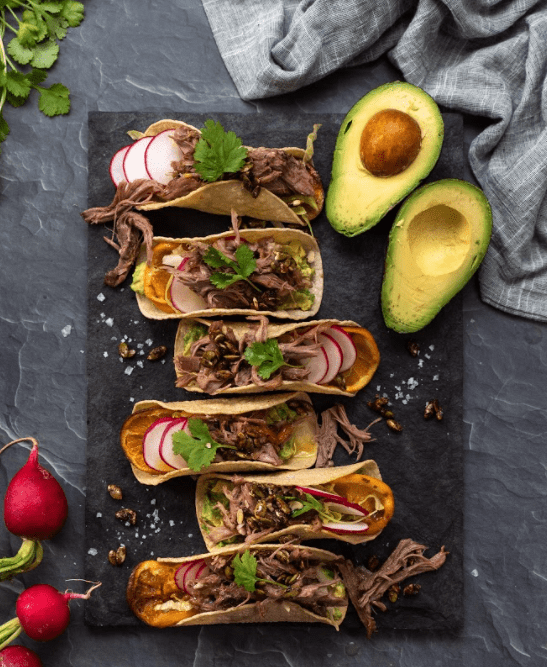 Ingredients
1 Pure South TE MANA Lamb Square Cut Shoulder (approx.2.2kg)
1 tbsp Olivado Extra Virgin Olive Oil
2 tsp Coriander powder
2 tsp Cumin powder
2 tsp Garlic salt
½ tsp Chipotle powder, optional
1 tbsp DYC Apple Cider Vinegar
1 cup Bouillon
2 Cinnamon quills
1 tbsp Honey
2 Oranges, sliced
½ cup Superb Herb Coriander, roughly chopped
2 NZ Avocados, mashed
½ Iceberg lettuce, shredded
5 Radishes, thinly sliced
2 Limes, cut in wedges
12 Corn tortillas, toasted
Method
For the lamb:

Preheat the oven to 160°C. Combine coriander, cumin, garlic salt and chipotle powder in a bowl, then rub all over the lamb shoulder. 

Pour bouillon and apple cider vinegar into the bottom of a large casserole dish. Add cinnamon quills and lamb, then drizzle with honey and place orange slices over. Roast, covered for 4 hours, or until the meat easily pulls apart. 

Remove lamb from the dish and use two forks to shred the meat. Discard the bones and cinnamon quills, then return the shredded lamb to the roasting juices. Keep the orange slices for serving.

To serve:

Load tortillas with mashed avocado, shredded iceberg, radish slices, orange slices and pulled lamb. Garnish with spicy pumpkin seeds and fresh coriander. Serve with lime wedges.