Shrimp Toast Tacos with Yoghurt Sauce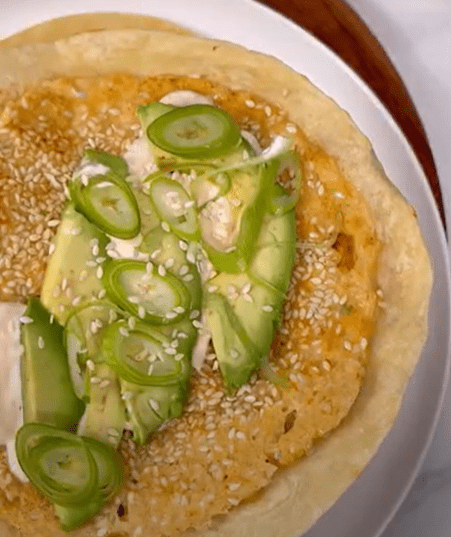 Ingredients
For the Prawn Mix:
320g raw Sea Cuisine Prawns
2 medium eggs
2 tbsp flour
2 tsp sesame oil
2 tsp Lee Lum Kee Soy Sauce Premium
Zest of two lemons
2 tsp garlic granules
2 spring onions, finely diced
Sesame seeds
Lee Kum Kee sesame oil
-
For the Tacos:
6 small tacos
1/2 medium NZ Avocado
-
2 tbsp yoghurt
2 tsp sriracha
2 tsp Sweet Sting Hot Honey
Juice of 1 lemon or lime
Salt and pepper, to taste
Golden Sun Sweet chilli sauce to serve
Method
Method 
Prepare the Prawn Mix:
Using a food processor, add all the prawn ingredients to the blender.
Season with a pinch of salt and pulse 4-5 times until combined but still with a little texture. If needed, mix by hand to combine all the flour and egg.
Alternatively, you can chop your prawns by hand to form a rough mince and mix it with the rest of the ingredients in a bowl.
Leave the mixture in the fridge for 5 minutes while you make the yoghurt sauce.
Make the Yoghurt Sauce:
In a small bowl, mix together the yoghurt, sriracha, honey, juice of 1 lemon or lime.
Season with a pinch of salt and pepper.
Assemble the Tacos:
Spread 1 tablespoon of the prawn mixture over each taco.
Sprinkle sesame seeds over the top of the prawn mixture.
In a pan, heat a little sesame oil. Pan-fry the tacos sesame seed side down for 2-3 minutes over medium heat.
Flip and toast for 1-2 more minutes.
Serve:
Repeat for the remaining tacos.
To serve, drizzle the yoghurt dressing over the top.
Enjoy these delicious sesame prawn tacos with a zesty yoghurt sauce!