Smoked Veggie Sausage & Chilli Baked Butter Beans
You can go meat-free at ease with these smoky sausages. Here, we serve them in spicy homemade baked butter beans with fresh avo smash. Colourful and cheerful feel-good food!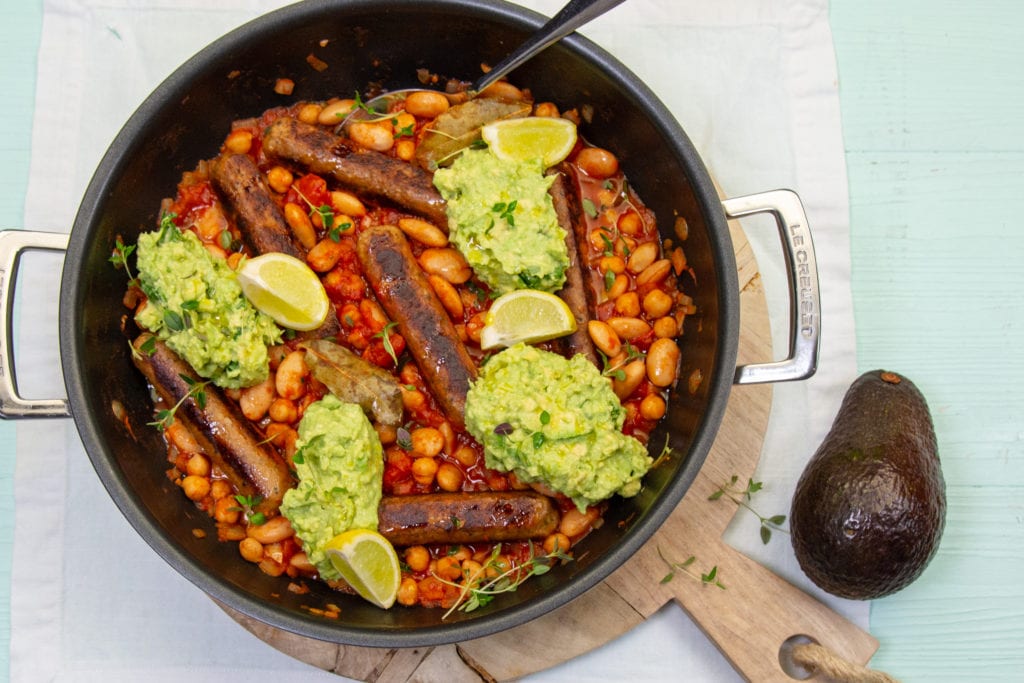 Ingredients
For the baked butter beans
1 onion, chopped
2 cloves garlic, minced
2 tbsp extra virgin olive oil ( We love Olivado )
1 can (400g) butter beans, drained and rinsed (We love Delmaine)
1 can chickpeas, drained
1 can (400g) chopped tomatoes ( we love Chantal Organics)
1 tsp brown sugar
1 tsp soy sauce
1 tsp smoked paprika
½ tsp cayenne pepper
½ tsp ground cumin
2 dried bay leaves
A handful of chopped fresh thyme ( we love Superb Herb)
Salt
Black pepper
To serve;
1 Avocado (we love NZ Avocado)
A handful of fresh Coriander ( we love Superb Herb)
Lime wedges
Le Creuset casserole dish to cook and serve this dish.
Method
Heat a casserole dish over medium-high heat. Cook onion and garlic with a drizzle of olive oil until soft for 3 minutes or so. Add cayenne pepper, cumin, smoked paprika, then chickpeas and tomatoes. Mix well. Add sugar and soy sauce, place bay leaves on top. Reduce the heat to low, cover the casserole with a lid and let it cook for 10 minutes.
Meanwhile, cook the vege sausages in a frying pan with a drizzle of olive oil, on a barbeque or in the oven. Set aside.
Mix the butter beans in the casserole, arrange the cooked veggie sausages in the pan and continue to cook for a further 5 minutes or so until everything is heated through.
Make the Avocado Smash. Place the flesh of one ripe avocado in a bowl. Add the lime juice, coriander, salt and pepper. Mash with a fork.
Top the avocado smash on the bean & sausage, garnish with thyme. Serve with some lime wedges.