Tuna avocado lemon soy lettuce cups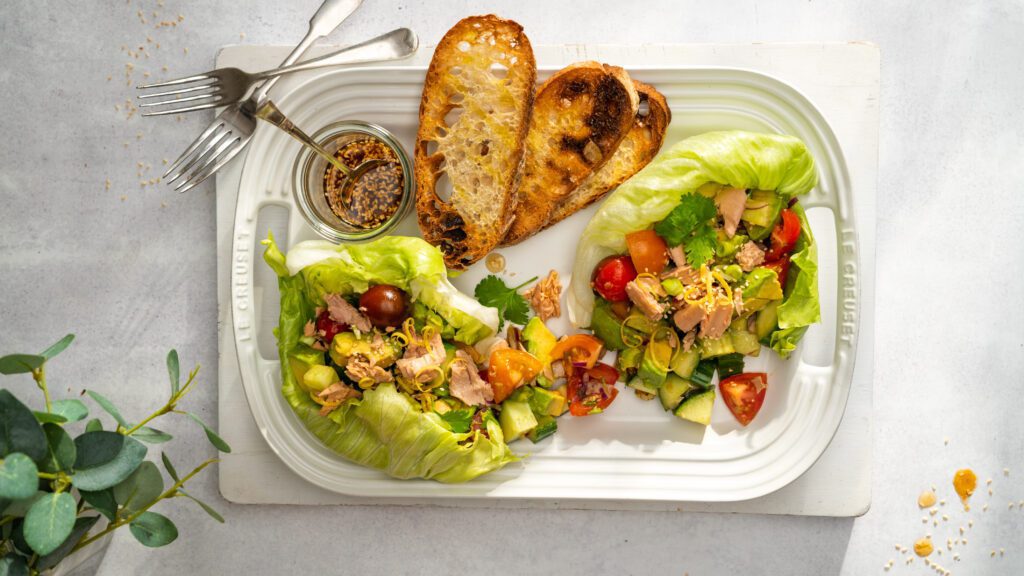 Ingredients
1 tin(185g) tuna in oil, drained and flaked
1/2 cucumber, halved lengthwise and cut into chunks
2 New Zealand avocado, peeled, pitted and diced
1/4 red onion, finely diced
2 spring onion, sliced
1 cup cherry tomatoes, chopped
4 iceberg lettuce leaves
-
Lemon soy dressing
1 lemon, juice and grated zest
3 tbsp Lee Kum Kee premium soy sauce
1 tbsp Lee Kum Kee pure sesame oil
1 tsp brown sugar
1 tsp grated fresh ginger
1 tsp FreshLife sesame seeds, lightly toasted
Method
A super quick and easy tuna salad recipe. Keto friendly and also budget friendly. The Japanese lemon soy dressing brings everything together and brightens the flavours. Serve on lettuce cups for extra fun.
Method 
In a small bowl, combine all ingredients for the lemon soy dressing. Set aside. 

In a large bowl, combine the salad ingredients. Toss with ⅔ of the dressing. 

Arrange two lettuce leaves to form a bowl: tuck one lettuce leaf inside another, repeat with remaining two leaves. Divide the salad into the two lettuce cups then drizzle the extra dressing. Garnish with coriander and extra sesame seeds.