Vegan Burrito Breakfast Wraps
Turmericy, herby, beany tofu scramble served with creamy avocado slices, baby spinach, coconut yoghurt and a drizzle of sweet chilli all rolled up in fresh hot wrap. The perfect brekkie to satisfy the whole family, veggies and all!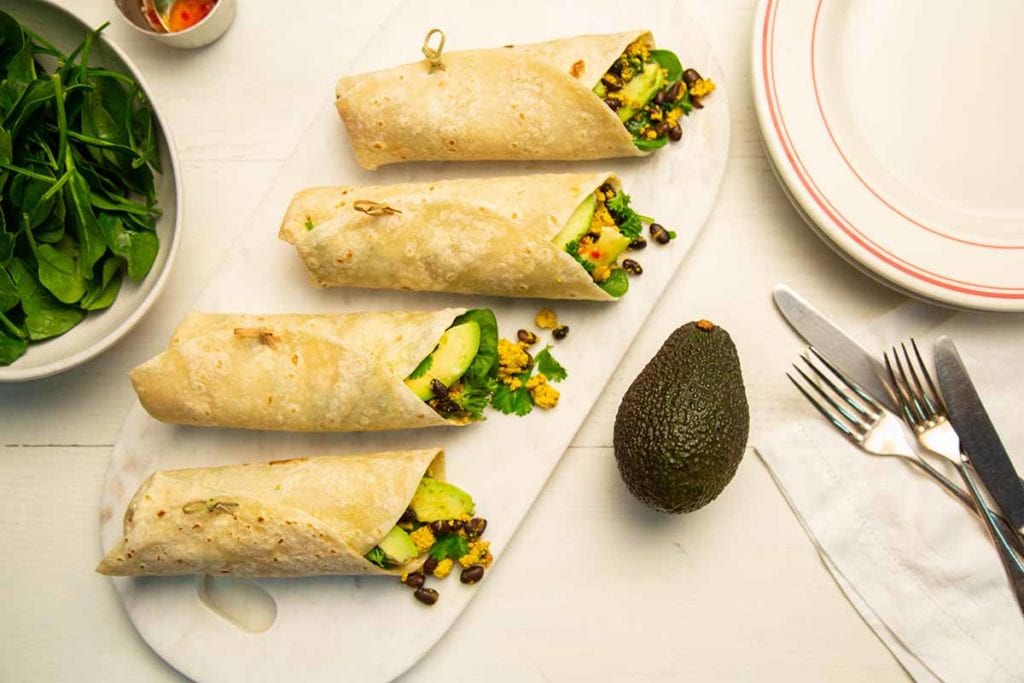 Ingredients
For the tofu scramble

Olive Oil
1 Onion - finely diced
2 cloves Garlic - minced
1 tsp Turmeric
½ tsp Chilli flakes
1 block firm tofu (We love Bean Supreme)
1 can (400g) black beans - drained
1 tbsp Soy sauce (we love Kikkoman)
1 tsp Tahini
A handful Coriander - roughly chopped
A handful Parsley roughly chopped

For the wraps

4x Wraps (we love Giannis)
A handful of Baby Spinach
1 Avocado - sliced (We love New Zealand Avocado)
Sweet chilli sauce - to serve (we love Lee Kum Kee)
1 pot natural Coconut yoghurt (we love Coconut Collaborative)

Kitchen Equipment:

We used a Le Creuset 30cm shallow casserole to make the tofu scramble.
Method
Heat a large casserole dish over medium heat. Add the oil and sauté the onion until it's soft and cooked through, about 5 to 6 minutes.
Add the garlic, tumeric and chilli and cook for two minutes.
Crumble the tofu directly into the pan with your hands, so it's broken up quite thoroughly.
Add the canned drained black beans and drizzle over the tahini and soy sauce. Continue to fry for a further 3-5 minutes
Finally, add the herbs.
Heat the wraps, spread one side with natural coconut yoghurt and a drizzle of sweet chilli.
Top with baby spinach, tofu scramble and avocado. Wrap, roll and devour!