Avocado, Pumpkin, Haloumi & Quinoa Salad
A delicious and healthy super salad.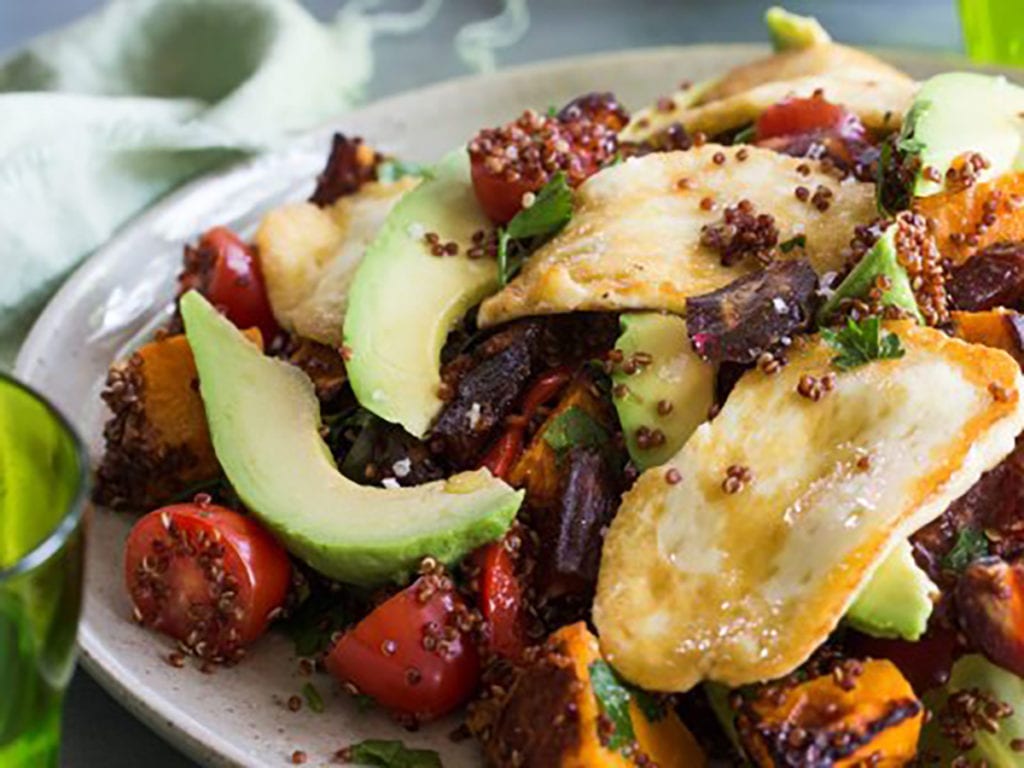 Ingredients
1 tablespoon olive oil
2 tablespoons balsamic vinegar
1 tablespoon runny honey
500g peeled pumpkin, cut into 2-3cm chunks

Quinoa salad

1 cup quinoa
1 1/2 cups chicken or vegetable stock
Flesh of 2 firm ripe avocados, sliced
1 punnet cherry tomatoes, halved
1 cup seedless grapes, halved
6-8 medjool dates, stone removed, chopped
Handful of baby rocket or spinach leaves
3/4 cup chopped flat-leaf parsley

To serve

200-250g haloumi cheese, sliced 0.5cm thick
2 grilled chicken breasts (optional), sliced

Dressing

3 tablespoons red wine vinegar
1 tablespoon wholegrain mustard
Juice of 1 lemon
1 tablespoon liquid honey
3 tablespoons extra-virgin olive oil
Method
Preheat oven to 200 deg C.
Line an oven tray with baking paper.
Toss pumpkin with balsamic vinegar, olive oil and honey in prepared tray. Roast until slightly caramelised, 20-25 minutes.
Meanwhile, cook the quinoa. Combine quinoa and stock/water (with a pinch of salt) in a medium-size pot and bring to the boil. As soon as it boils, cover with a tight-fitting lid and reduce to lowest heat to cook for 15 minutes. Remove from heat and leave to steam, still covered, for 10 minutes.
Fluff up quinoa grains with a fork and toss with roast pumpkin and remaining quinoa salad ingredients. Season to taste with salt and pepper.
Heat a drizzle of oil in a fry pan on medium heat and cook haloumi slices for 1-2 minutes on each side until golden brown, and melted on the inside. Mix all dressing ingredients together and toss with quinoa salad. To serve, divide quinoa salad between bowls and top with slices of cooked haloumi and grilled chicken breast if using.