Baked Avocado Salmon & Egg Boats
You may not like the thought of warm avocado, but trust me it is surprisingly good. The heat enhances the creamy avo texture and flavour. Here, we have paired it with the lovely smoked salmon, egg yolk and wasabi to create an interesting appetizer to serve with pre dinner drinks. It works well for breakfast or brunch too.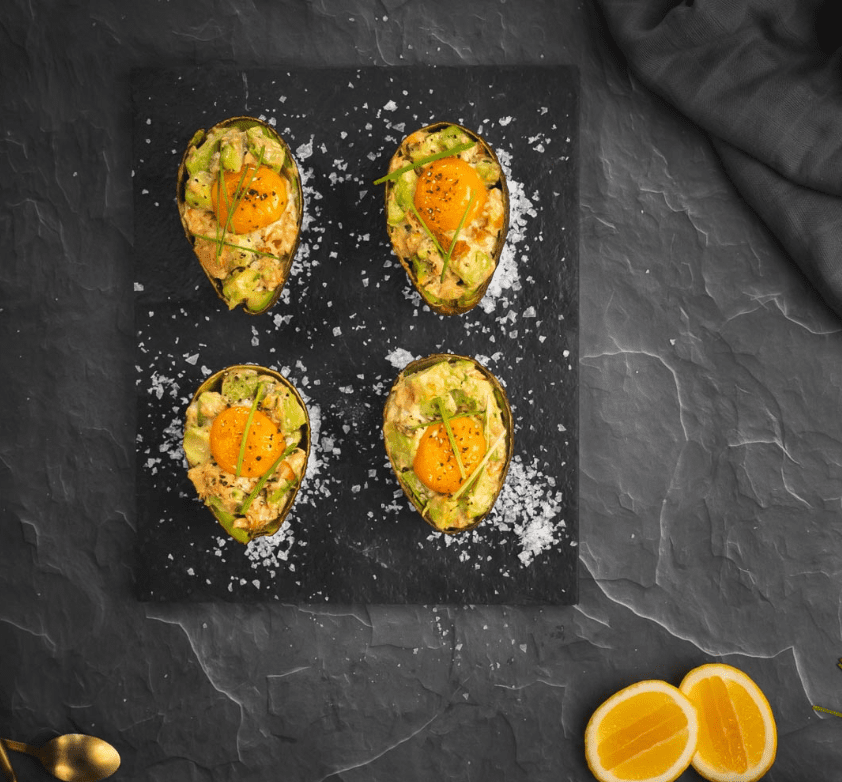 Ingredients
2 ripe NZ Avocados, halved and stone removed
200g Regal wood-roasted salmon, skin removed and flaked
2 tbsp Mayonnaise
A dash of Lee Kum Kee gluten free soy sauce
½ tsp wasabi
4 Woodland egg yolks
1 tbsp Superb Herb chives, chopped
Method
Method
Preheat the oven to 200°C.
Scoop out the avocado flesh and cut into small chunks. In a bowl mix avocado flesh, salmon flakes, chives, mayonnaise, wasabi and soy sauce. Mix thoroughly but try not to mash.
Place avocado skins in a baking tin, then pile the avo salmon mixture in the bottom of each avocado boat creating a "nest" in the middle. Place an egg yolk in it on each boat.
Season the egg with a little salt & black paper, then bake in the oven for 10-15 minutes or heated through and the egg cooks to your desired consistency.
Serve warm topped with some extra chives, lemon wedges and a spoon.
Tip; If your avocado boats don't stand upright, make stands with some salt.