Chicken, Avocado and Crunchy Noodle Salad
Tender chicken breast, crunchy noodles, creamy avocado, loads of fresh herbs and a delicious sticky honey lemon and mustard dressing. This salad is a textural experience not to be missed. Perfect for the whole family.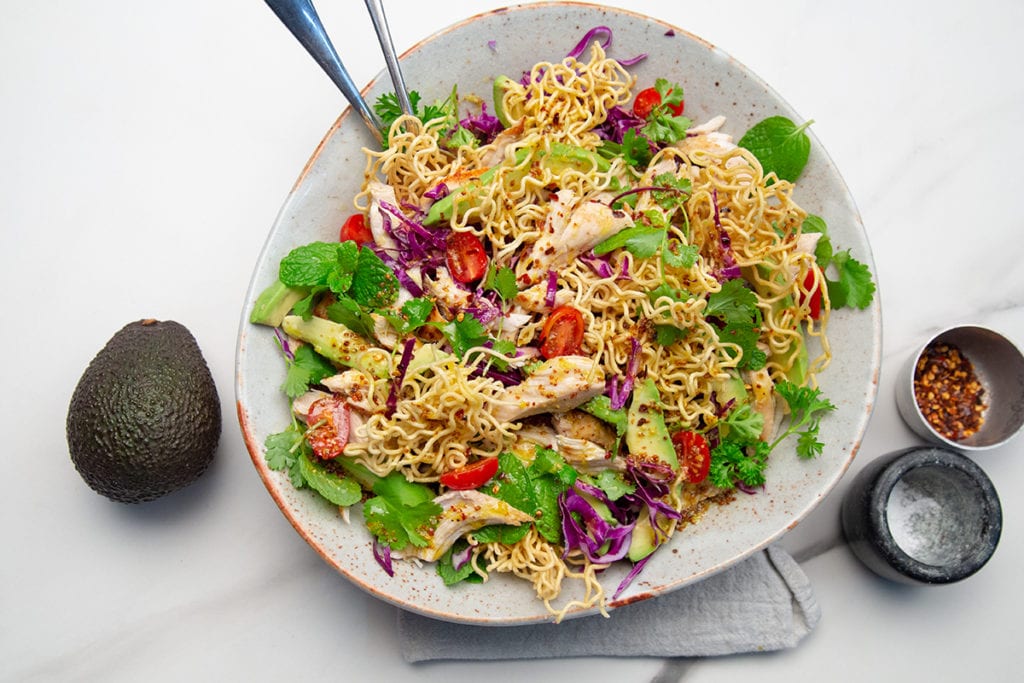 Ingredients
2 Waitoa Chicken Breasts - butterflied
A knob Butter
Salt & Pepper
2 packs Egg Noodles (we love Indomie)
1L Vegetable Oil for deep frying
2 Avocados (we love New Zealand Avocado) - sliced
250g 1 Punnet Cherry Tomatoes (we love Beekist) - halved
Handful Coriander (we love Superb Herb)
Handful Mint (we love Superb Herb)
Handful Parsley (we love Superb Herb)
¼ Red Cabbage - shredded

For the dressing

1 tbsp Honey (we love Mother Earth)
1 Lemon - zest & Juice
½ cup Olive Oil (we love Olivado)
1 tsp Whole Grain mustard (we love Delmaine)
½ tsp dried chilli flakes (We love Greggs)
Method
Rub the chicken breast with salt and pepper. Heat the butter in a frypan over a medium-high heat. Fry off the butterflied chicken breast until perfectly cooked. Set aside covered to rest.
Cook the noodles according to the packet instructions. Drain and set aside.
In a separate large heavy pot, heat the vegetable oil over a medium/hot heat. Being very careful not burn yourself, deep fry ⅓ of the noodles until golden and crispy. Drain excess oil with kitchen towel.
To make the dressing, place the honey, lemon zest and juice, olive oil, whole grain mustard and chilli flakes in a bowl and whisk to combine. Season with salt and pepper to taste.
Shred the chicken and in a beautiful serving dish combine with the avocado, coriander, mint, parsley, cabbage and tomatoes. Break up noodles into clusters and add to the salad. Drizzle over dressing and serve immediately.