Couscous Prawn Rice Paper Rolls
A fresh take on a Vietnamese classic. Rice paper rolls filled with prawns, avocado, couscous, loads of fresh herbs and satay sauce.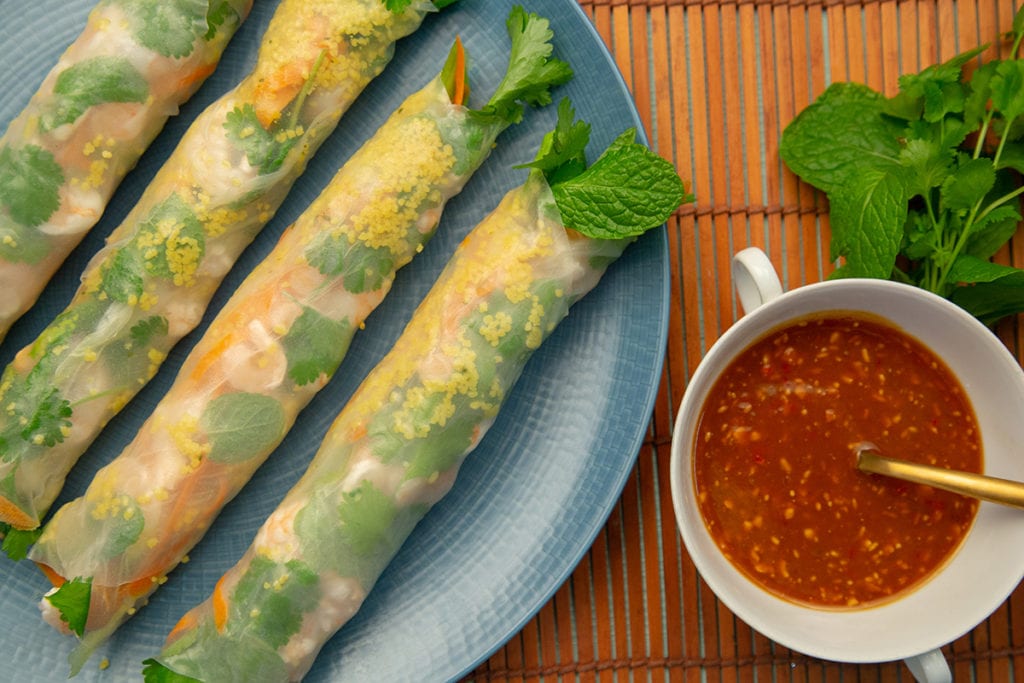 Ingredients
10 round rice paper sheets
1 packet couscous (we love Diamond)
2 tbsp Sesame Oil
1 tbsp Rice vinegar
2 tbsp Soy Sauce
1 Avocado (we love New Zealand Avocado)
1 Carrot - peeled into ribbons
½ cucumber - peeled into ribbons
2 cups cooked Prawns- thawed (we love Sea Cuisine)
A handful of Coriander (we love Superb Herb)
A handful of Mint (we love Superb Herbs)

For the satay sauce:

2 tbsp Peanut Butter (we love Mother Earth)
2 tbsp Sesame oil (we love lee kum kee)
1 tbsp Soy Sauce (we love kikkoman)
1 tbsp Honey (we love mother earth)
1 Lime - juiced
½ Chilli - chopped finely
1 clove Garlic - minced
Method
Cook the couscous as per pack instructions
Drizzle over the sesame oil, rice vinegar and soy sauce and let cool
To make the satay sauce – mix together all of the satay sauce ingredients in a bowl until smooth. Add a little water to loosen – set aside.
Soak the rice paper according to packet instructions in a shallow bowl of cold water and then one by one start to make your rolls. Lay one on a flat plate and place a narrow strip of couscous mixture down the middle of the rice paper. Top with prawns, avocado, carrots, cucumber, fresh herbs and a drizzle of satay sauce. Fold over one half and then carefully roll it up as tightly as you can. Repeat until you have used up all of your paper and filling. Arrange them on a plate and serve with the remaining dipping sauce.