Halloween avocado ghosts
Fun and healthy Halloween treats that kids will love to make and eat. We use the natural shapes of the nuts and raisins for their eyes and mouth to create "happy" " surprised" "sad" or "angry" ghosts. Happy Halloween!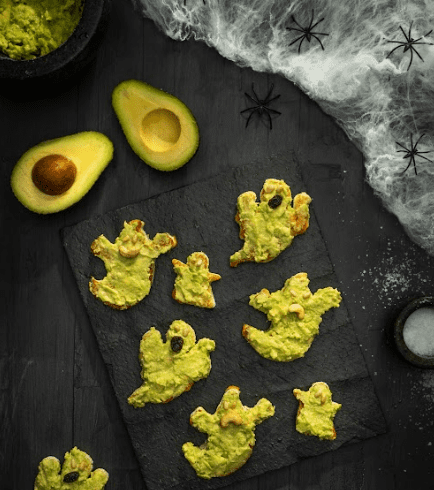 Ingredients
NZ avocado
Lemon juice
Salt & pepper
FreshLife pine nuts
FreshLife cashews
FreshLife raisins
Slices of toast bread
Olive oil spray or table spread
equipment : Ghost shaped cookie cutters *
Method
Method
Preheat oven to 180°C
Using the ghost cookie cutters, cut out the toast bread into ghost shapes. Place on a baking tray and spray lightly with olive oil.
Toast in the oven for 5–8 minutes until well toasted.
Meanwhile, mash the avocado with a squeeze of lemon juice and season.
To assemble avocado ghosts: Spread the mashed avocado over each ghost toast and arrange pine nuts for eyes and cashews or raisins for mouth.
* If you don't have a ghost shaped cookie cutter, create a template with cardboard and cut the bread around it with a small knife.