Salmon and Avocado Verrines with Zesty Dill Dressing
Verrine is an elegant French-style appetiser served in a small glass. This beautiful salmon pink and avocado green combo is perfect for your festive table. A creamy lemon dill dressing enhances the taste and colour.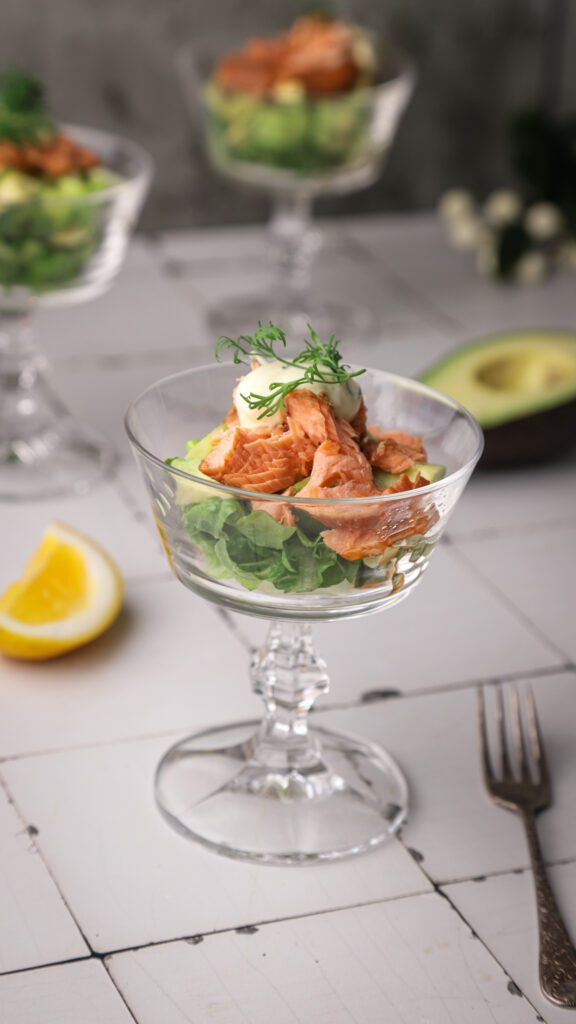 Ingredients
1 fillet Aoraki Pohutukawa hot smoked salmon (allow 40–50g per portion)
1 pot Aoraki Malossol Caviar (optional)
½ cucumber, peeled and cubed
sea salt
1 tbsp olive oil
1 tbsp lemon juice
½ tsp dried chilli flakes
1 NZ Avocado, quartered, skinned and cubed
1 tbsp Superb Herb Italian parsley, coarsely chopped
-
Zesty Dill Dressing:
¾ cup Tatua sour cream
2 tsp Dijon mustard
1 small garlic clove, minced
2 ½ tbsp Superb Herb fresh dill, finely chopped
1 tsp lemon zest
1–2 tbsp lemon juice
2 tbsp olive oil
Pinch of salt
½ tsp white sugar
4 small handfuls Superb Herb crazy peas
2–3 baby cos lettuce leaves, shredded
extra parsley
Method
Method 
Place the cucumber in a bowl and add the olive oil, lemon juice, and chilli, and combine. Gently fold in the avocado and parsley.

Mix all dressing ingredients in a small bowl. Set aside. 
To serve: In small glasses, layer lettuce, avocado salad, and hot smoked salmon. Serve with a drizzle of zesty dill dressing and a spoonful of caviar on top. Decorate with crazy peas.