Mango Hoisin Butterfly Chicken
This fruity, sweet and salty Mango Hoisin marinated chicken is a delightful Asian twist on your roast favourite roast chicken. Serve alongside lemony griddled broccolini and the freshest Mango & Avo salsa.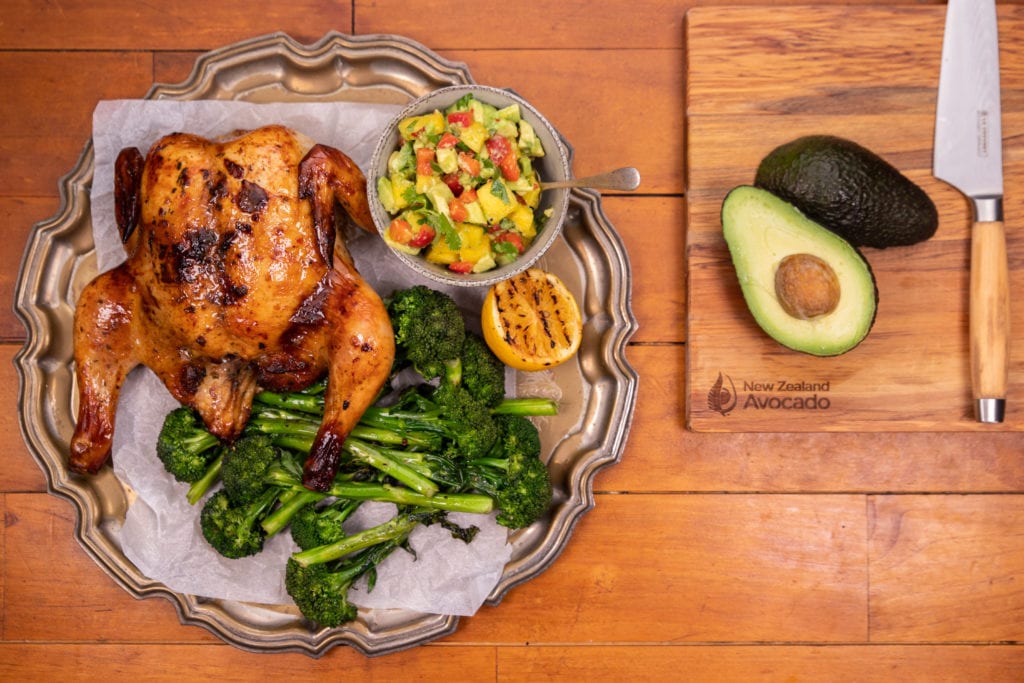 Ingredients
1 free-range mango hoisin butterfly chicken (we love Waitoa)
2 avocados, diced (we love NZ Avocado)
1 mango, diced
1 capsicum, diced
1 handful fresh coriander, roughly chopped (we love Superb Herb)
½ chilli, finely diced
1 lime, juiced
1 lemon, halved
1 tbsp avocado oil (we love Olivado)
250g sweet stem broccoli (we love The Fresh Grower)
Salt and pepper, to taste
Method
Preheat oven to 190C.
Place chicken on a lightly greased tray and bake for 75 minutes, turning occasionally.
Make the salsa. Combine the diced avocados, mango, capsicum, chilli, a pinch of salt, and fresh coriander in a bowl. Add the lime juice and toss lightly.
Rinse the broccoli stems, leaving a little water on them.
Heat the griddle pan on high heat. Drizzle with avocado oil. Place the stem broccoli and halved lemons on the hot pan. Sprinkle with salt and ground pepper.
Turn the broccoli stems after they've coloured on one side. Once it's nicely charred squeeze the grilled lemons over.
Serve the roast chicken on a bed of sweet stem broccoli and lemon with the salsa at side.