Avocado chocolate ganache cake
The chocolate ganache on this cake uses avocados and coconut milk as the delicious ingredients that give it its creaminess, however the whole cake is dairy free! The cake itself is super moist and decadent with the help of rich avocado oil! Avocados are simply amazing when whizzed up with melted chocolate, producing a thick, silky, creamy ganache.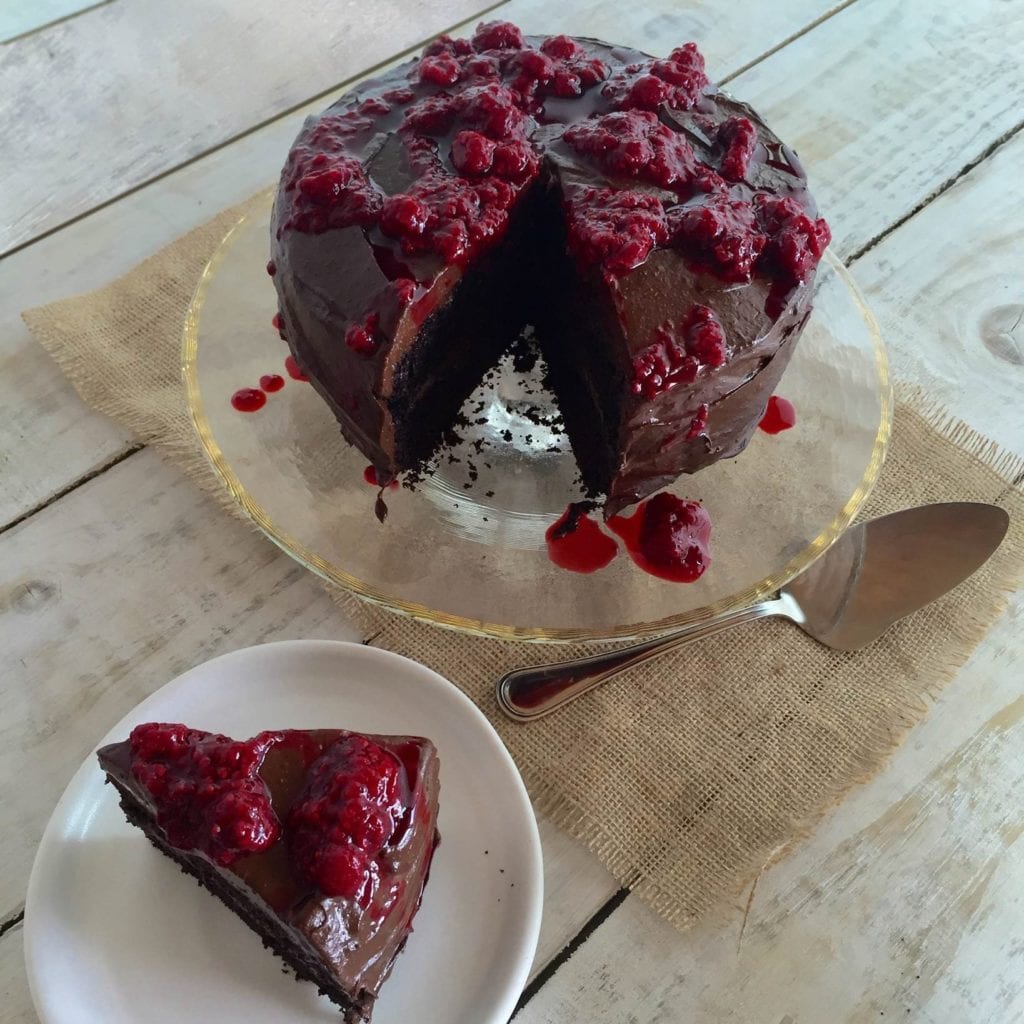 Ingredients
1 3/4 cups brown sugar
2 cups self-raising flour
3/4 cup good quality cocoa powder
1 1/2 teaspoons baking soda
3 large free-range eggs, whisked
1 cup coconut milk
3/4 cup oil such as avocado oil, canola oil, grape seed oil or a light olive oil
good pinch of salt
3/4 cup hot coffee
Avocado chocolate ganache
250g good quality dark 60-75% cocoa chocolate e.g. Whittakers Dark Ghana (check chocolate is dairy-free if required)
flesh of 2 large just-ripe avocados
1/2 cup coconut milk
2 tablespoons pure maple syrup or sugar
Method
1. Preheat oven to 170˚C.
2. Lightly grease and line a 20-23cm spring-form cake tin with baking paper.
3. Place all chocolate cake ingredients except coffee into a large mixing bowl and mix together well with a fork, then pour in coffee and continue mixing until a smooth batter. Pour into prepared cake tin and bake for about 1 hour or until a skewer inserted into the centre of the cake comes out clean.
4. Allow to cool in the tin for at least 20 minutes before releasing spring and removing from tin, then invert cake out onto a plate (so that the flat bottom is now facing up). Leave to cool completely before icing with ganache.
5. To make the avocado chocolate ganache,break chocolate up into pieces and melt in a double boiler or in a glass bowl set above a pot of simmering water(just make sure the water does not touch the bottom of the bowl or else it will risk the chocolate burning or becoming grainy), whilst stirring every now and again. Place avocados, coconut milk, melted chocolate and maple syrup/sugar in a food processor and blend together until creamy and smooth.
6. When cake has completely cooled, use a large serrated knife to carefully cut in half horizontally, keeping equal thickness on both sides as best as you can. Place half on a serving plate and spread over about one third of the ganache, then place other half on top. Spread remaining ganache all over the top and sides of the cake. Garnish with berries or berry compote and it's ready to serve!
7. *If fresh berries aren't in season, make a berry compote by boiling down 2 cups frozen raspberries or boysenberries with 2-3 tablespoons water and 2-3 tablespoons sugar in a pot for about 5 minutes until raspberries have broken down and you have a thick raspberry sauce. Stir in 1 cup of frozen berries.Allow to cool completely before drizzling over the cake.
8. If not using at once, you can freeze the cake before it is iced, but the ganache is best made fresh.