#Avopartyanyway – Avocado chocolate mousse with whipped coconut cream, mango and pistachio
Could this be the best chocolate mousse of all time? Polish off your meal with this easy to make plant-based dessert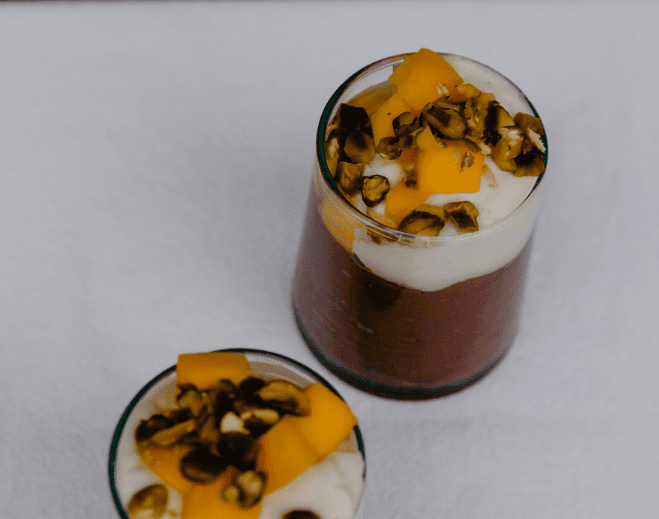 Ingredients
6 tbsp avocado
1 tbsp cocoa powder
1 tsp vanilla extract
¼ cup almond milk
To taste maple syrup (use as much or as little as you like)
-
For the topping
½ tin full fat coconut cream
1/2 ripe mango (or banana or pineapple)
1 lime
1 tsp maple syrup
¼ cup toasted pistachio nuts (or almonds or peanuts)
Method
Store the can of coconut milk in the fridge overnight and leave until ready to use.. 
Make the mousse. Combine all ingredients in a blender except the almond milk. Start to process adding the almond milk a little at a time until the desired consistency is reached and the pudding is completely smooth. Use less milk for a thicker mousse and more for a thinner / creamier result.  Put into serving glasses and leave in the fridge until ready to serve.
Now whip the cream. Place a medium-sized mixing bowl in the freezer for five minutes. Open the can of cold coconut milk and discard the semi-clear liquid that's sitting at the top. If the cream separates from being in the fridge keep the solids and discard to clear liquid that may be left.  Add to the mixing bowl and using an electric mixer, whip until stiff peaks begin to form (5 minutes or so.   
Peel and dice the mango. Put into a bowl with maple syrup, lime zest and juice.  
Now assemble. Spoon the mango onto the chocolate puddings, keeping a little aside for garnish. Top with the whipped coconut cream, the pistachio nuts and the remaining mango.  
Feeling fancy? Why not add a no churn ice cream or coconut tuille? Recipes available at kitchentakeover.co.nz/no-churn-ice-cream and kitchentakeover.co.nz/coconut-tuille