Avocado chocolate truffles
These truffles are not only incredibly tasty, they are made healthy with the addition of avocado and avocado oil!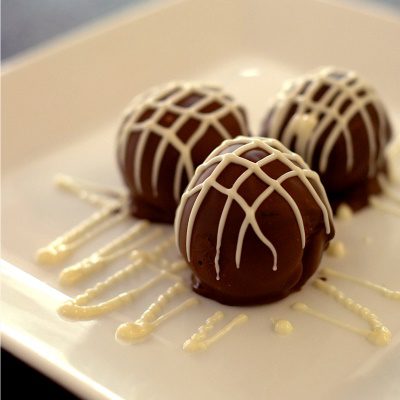 Ingredients
250ml cream
275g real dark chocolate
75g fresh avocado butter (80% fresh avocado & 20% 'Grove' avocado oil)
Good quality cocoa powder or tempered chocolate for enrobing
Method
With a hand blender, beat together the avocado and oil until soft and creamy, cover and place in fridge until needed.
Chop the chocolate into chunks or break into squares. Put the chocolate into a heatproof bowl and microwave on HIGH until barely melted.
Scald the cream in a pan – allow it to boil and rise up (be careful it doesn't boil over). Pour about a tablespoon onto the chocolate and mix well. Keep adding the cream, a spoonful at a time, mixing thoroughly to form an 'emulsion'.
When all the cream has been mixed in, add the avocado butter. The mixture should still be warm enough to absorb it, although it will take a few minutes to beat it in, so there are no lumps left. When it has set to the consistency of butter icing, it is ready to be piped or spooned into truffle-sized pieces.
If piping, put the mixture into a piping bag and pipe blobs of mixture about the size of a large cherry onto a tray covered with greaseproof paper or cling film. Leave to cool for at least 2 hours, preferably 24 hours.
To finish, drop into a tray of cocoa powder, roll briefly, shaking off excess and leave to set. Alternatively, the chocolates can be enrobed with tempered chocolate and drizzled with melted white chocolate or topped with a pistachio.