Avocado lime and coconut cheesecake
This dairy-free and gluten-free dessert combines luxuriant taste and texture with the amazingly healthy avocado to create a wonderful dessert!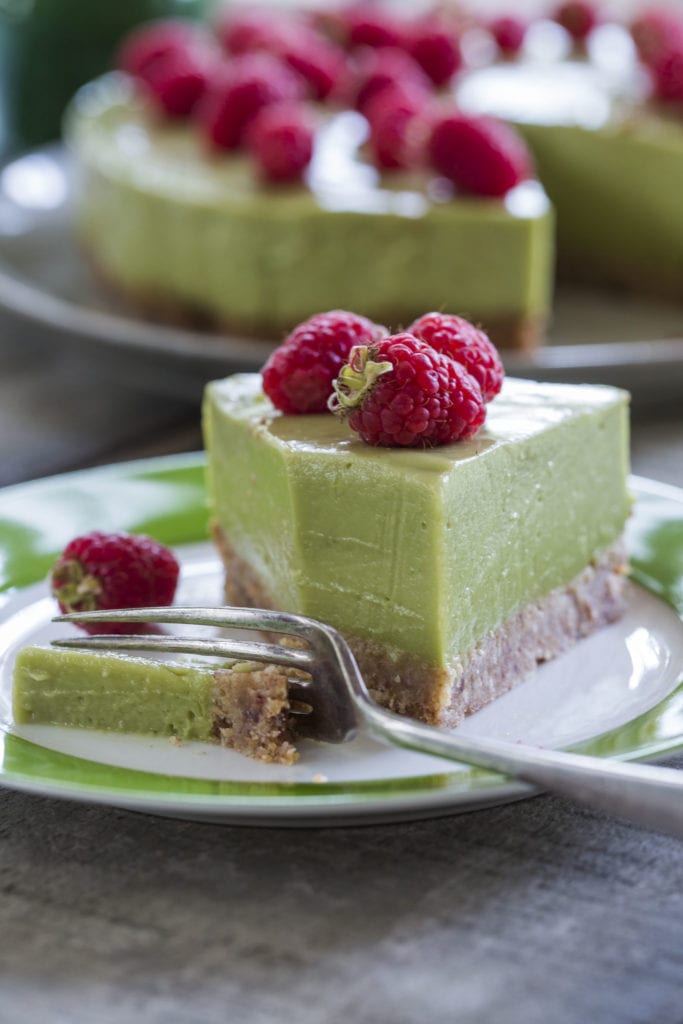 Ingredients
BASE
140g ground almonds
3/4 cup desiccated coconut
8 large medjool dates (pitted)
5 tablespoons melted coconut oil
FILLING
Flesh from 5 medium firm ripe avocados
1 cup lime juice (preferably freshly squeezed)
Finely grated zest of 2 limes
1 cup coconut cream
2 teaspoons vanilla essence or paste
1 cup maple syrup
2 tablespoons gelatine powder
2 tablespoons cold water
3 tablespoons boiling water
TO SERVE
2 punnets fresh raspberries
Method
Preheat oven to 160C.
1. Place all base ingredients in a food processor and blitz until well combined and crumbly. The mixture should hold together well when pinched together.
2. Lightly grease and line the base and sides of an 18cm round spring-form cake tin with baking-paper and tip in the base mixture. Press mixture down firmly and evenly with the back of a spoon. Bake for 10-15 minutes until lightly browned, then set aside to cool completely in the fridge.
3. To make the filling, place all the ingredients, except the gelatine and water, in a food processor and blend until the mixture is smooth. Taste the mixture and add more maple syrup, lime juice or zest or vanilla to your taste buds if necessary.
4. Mix gelatine powder with cold water and leave to swell for a few minutes. Add boiling water and mix well to completely dissolve the gelatine. Add dissolved gelatine mixture to the food processor and blend with avocado mixture until smooth and well incorporated.
5. Remove cake tin from fridge and pour filling over the base. Cover with a plate or clingfilm, and return to the fridge to set for at least 4-5 hours or overnight.
To serve, carefully run a knife between the tin and the cake to loosen, then push base of tin up and carefully transfer cheesecake to a plate. Serve garnished with fresh raspberries.